This post may contain affiliate links, which means I may earn a small commission if you click my link but does not change your price. See my affiliate policy here.
Yosemite National Park is one of our family's favorite places. We feel a bit spoiled that this natural wonder is only a few hours from our home, and we feel so lucky that we can visit often! We've also been fortunate enough to visit in every season, and absolutely love Yosemite in winter.
Here's a guide to visiting Yosemite National Park in winter – I hope it's helpful as you plan and prepare for this very worthwhile adventure! For a more complete guide checkout this Ultimate Guide to Yosemite National Park with Kids.
Should I Visit Yosemite In Winter?
Of course, this is a personal decision – but having visited over a dozen times in every season, my answer is a resounding YES!
Here are some of the reasons I love Yosemite in winter:
Fewer crowds – there's nothing quite like having the majestic Valley almost all to yourself!
More availability for things like accommodations and ranger tours
Gorgeous snow-dusted landscapes if you're lucky
Yosemite Winter Weather
Winter weather in Yosemite can be a bit variable. We've visited in February when the highs were in the low 60s with zero snow to be seen, and we've visited in January when the entire valley was covered in snow and ice. (We've also just barely missed a snowstorm in May!)
Still, Yosemite receives over 75% of its precipitation from November-March, so it's definitely a good idea to plan for cold and wet (and you'll just be pleasantly surprised if it's not).
Here are some averages for temperature and precipitation in Yosemite Valley. (This is, of course, different at higher elevations.)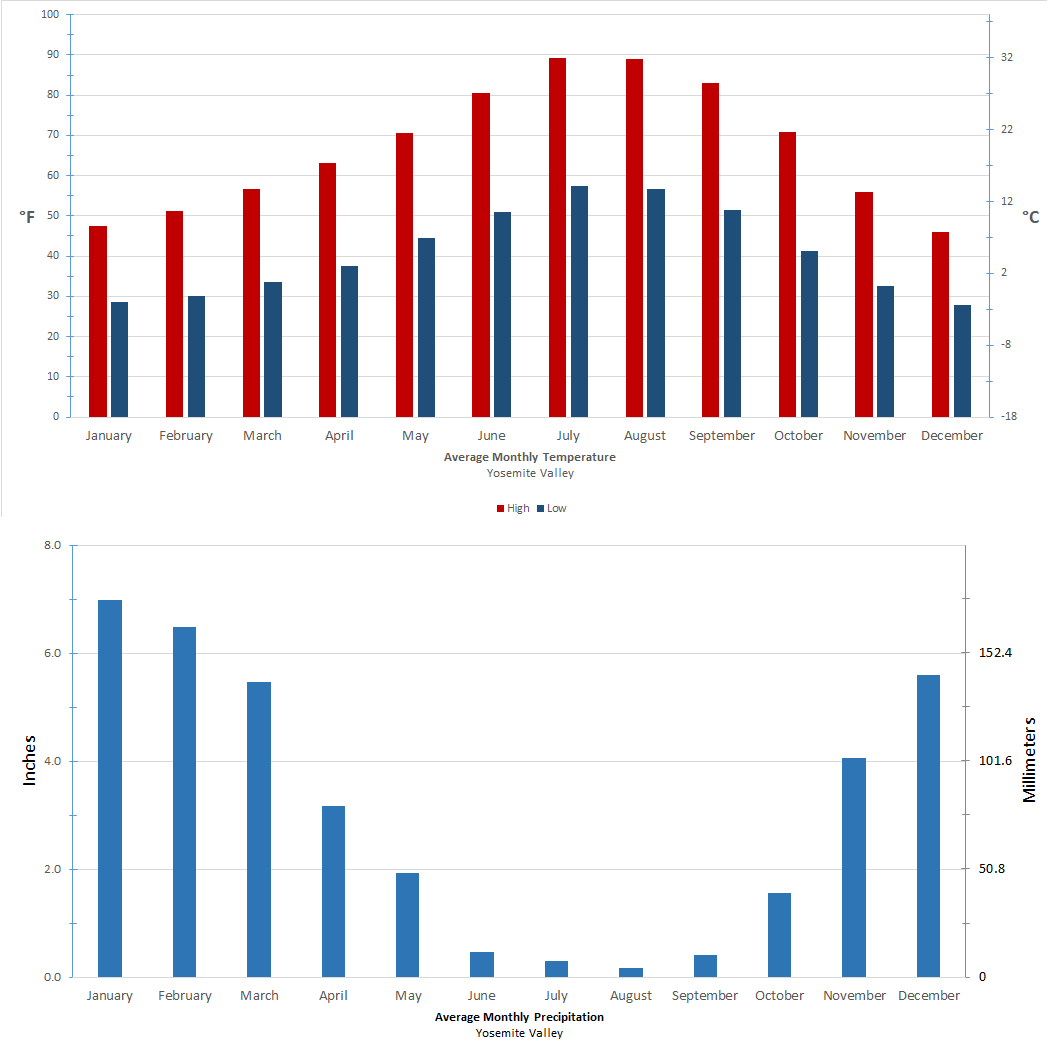 Where To Stay in Yosemite with Kids
There are lots of different options for where to stay in Yosemite for every comfort level and budget. Here's a full blog post with tons of option son where to stay on a Yosemite family vacation!
Packing List for Winter in Yosemite
Because you're more likely than not to experience colder temps and some precipitation when visiting Yosemite in winter, it's important to bring winter essentials. Here's a list of winter gear for families to keep everyone warm, dry, and comfortable. The versatility of these pieces also helps us pack light, too.
Merino wool base layers:
These are for sure our number one winter travel essential for families. We always add them to our packing list for a winter vacation. Though merino wool can be pricier, we've found it's worth the investment for its warmth, comfort, and durability. We use and love both Smartwool base layers and REI Co-op merino wool base layers.
Wool socks:
These are great for travel as they can be aired out and reworn, and dry very quickly when they are washed. Perfect for hiking or any outdoors adventure in any weather. Again, though they can be pricier, these Darn Tough socks are super warm, wildly durable (they have a lifetime warranty – on socks!), and are still a family-owned business. They're our favorite wool socks for the whole family! (Found on the Darn Tough website and at REI.) We also love Smartwool socks for winter outdoor adventures (and you can often find them on sale here.)
Waterproof hiking boots:
We can usually get by with our regular waterproof hiking boots when we travel to cold places. These are our favorites for men, women, and big kids, and little kids. If you spend a lot of time in really cold and damp areas, though, I highly recommend some solid waterproof snow boots for your winter essentials for kids.
Insulated Gloves:
I highly recommend insulated waterproof gloves to keep hands toasty and dry. We love these insulated gloves for kids, toddlers, women, and men. For little ones, we like including mitten clips. This style runs through the sleeves so they stay together and won't get left behind.
Warm coats:
A warm outer layer is a super important winter essential for travel, and waterproof is key. These styles for kids, women, and men are so soft, comfy, and warm – and the waterproofing is terrific.
Hats:
Beanies are important to prevent heat loss from the head. This is also a super important one for baby winter essentials – we love this little pom pom beanie for our littlest.
Warm Blanket:
I can't overstate just how much we love our Rumpl blanket! It's weather-resistant and easy to wash, so it's perfect for staying warm on outdoor adventures. And it's compressible and perfect to pack with your winter hiking gear. I love the kid size blanket to wrap around little ones inside the baby carrier because it's warm but also doesn't add too much bulk.
Waterproof pants:
Waterproofing is really the key to winter gear for kids. Waterproof pants are an amazing wind-resistant layer that keeps us significantly warmer, so they're great winter travel essentials if traveling to a cold or wet place. These are our favorite rain pants for kids, toddlers, women, and men from REI. If you do spend a lot of time in cold places, you may prefer an all-in-one solution with snow pants over base layers instead of rain pants on top of other pants.
Hand warmers:
Though we try to get our layering right so we don't need hand warmers, they're a great backup or to quickly warm up some cold extremities. They're also small and easily packable!
Safety items:
While it's important to take along safety essentials any time of year, it feels especially important in cold weather if you're far from services. Here are some important ones:
Crampons: winter in Yosemite can get icy – not just trails, but parking lots, walkways and bridges, too. It can be useful to have micro spikes on hand to throw on whenever needed. Here are some options for adults and these are for kids.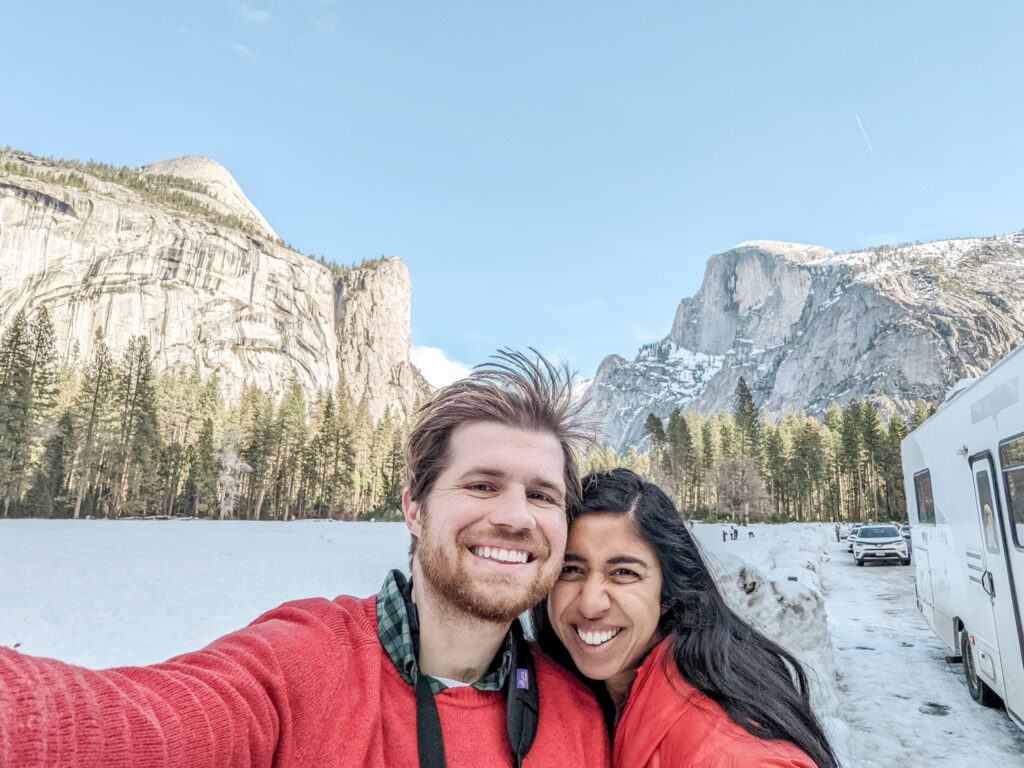 Winter Activities for Kids in Yosemite National Park
Winter road closures can limit access to some areas of Yosemite National Park, but there's still plenty to do on a Yosemite winter vacation – including some of those nostalgic activities that can only be done in winter! You'll find lots of winter fun in Yosemite Valley and Wawona, in particular. Here's a list of amazing winter activities in Yosemite.
Yosemite Junior Ranger Program for Kids
The Yosemite Junior Ranger program is wonderful with different books for different age groups (it does have a small fee per child). It's technically recommended for ages 7+, but we've helped our 4 and 5 year olds do and love it, or there's a Little Cub booklet for kids ages 3-6 (but know it technically only earns a sticker and some rangers are sticklers – beware if you have a younger kiddo with an older sibling!. My kids love earning the badge and gorgeous patch!
You can pick up the booklets in the visitors centers and some ranger stations, and is a perfect activity when visiting Yosemite in winter.
Winter Hiking in Yosemite
There are so many options for winter hiking in Yosemite National Park! Most options will be in Yosemite Valley, but there are a couple other areas of the park where you'll find open trails in winter. Here are some great ones to check out for your family hikes in Yosemite.
Wawona
Swinging Bridge Trail – 1.4 mile out and back rated easy
Wawona Meadow Loop – 3.5 mile loop rated easy
Yosemite Valley
Lower Yosemite Fall -1 mile accessible loop rated easy
Columbia Rock – 2 miles from Camp 4 rated strenuous; 3 miles from Lower Yosemite Fall rated strenuous
Yosemite Valley Loop – 7.2 mile half loop rated moderate; 11.5 mile loop rated moderate
Mirror Lake – 2 miles out and back to the lake rated easy; 5 miles around the lake rated moderate
Hetch Hetchy
Wapama Falls – 4.6 miles rated moderate
Lookout Point – 2.8 miles rated moderate
Ice Skating at Curry Village
For nearly 100 years, visitors to Yosemite National park in winter have enjoyed ice skating at the Curry Village outdoor rink. This family-friendly activity in Yosemite valley features stunning views of Half Dome. There is also a fire pit to warm up after skating or for those who prefer to sip a warm drink by the fire over donning skates.
Yosemite Museum
Winter is a perfect time to check out the Yosemite Museum with its Indian Cultural Exhibit and Village. There are occasional demonstrations and lots of information about Yosemite's native Miwok and Paiute peoples presented in a beautiful and accessible way for kids.
Visit the Ansel Adams Gallery
The gorgeous Ansel Adams Gallery in Yosemite Valley is fun to check out any time of year but is especially great to escape the winter cold for a bit. It's inspiring and lovely to see the different persepectives!
Snowshoeing in Yosemite National Park
Snowshoeing in Yosemite is such a beautiful way to experience the park in winter. A great place to start is Badger Pass Ski Area, where you can rent snowshoes and have access to all the cross-country ski trails. They also offer guided snowshoe hikes. YExplore Yosemite Adventures and Tenaya Lodge also offer guided excursions and rentals.
Snow Tubing and Sledding in Yosemite
There are several options for tubing and sledding in Yosemite and just outside the park. Badger Pass Ski Area has maintained hills that are perfect for families. Tenaya Lodge, just a couple miles south of the park, also has a sled hill. Also outside the park but nearby is Leland Snowplay, which also has equipment for rent. Some free areas include the Goat Meadow Snow Play Area and the Crane Flat Campground.
Work on Survival & Safety Skills
Winter is a perfect time to think about some survival and safety skills in nature. First aid skills, pocketknife skills, knot tying, water safety, food storage (using bear boxes and bear safe trash cans!), and hiking safety (staying with a buddy and leaving no trace) are especially important when it's freezing outside.
Here's a list of survival and safety skills for kids that you can review whether backyard camping or heading out into nature.
Snowboarding and Skiing in Yosemite National Park
Badger Pass Ski Area is the place to go for downhill skiing and snowboarding in Yosemite. They have a large network of trails and also offer tours, including back-country ski tours and cross-country ski tours. Cross-country skiers will also find trails in the same places as snowshoe trails, including Badger Pass and Crane Flat.
Visit the Yosemite Giant Sequoia Groves
Yosemite's Giant Sequoia's are a sight to behold, especially when they're all dressed up in winter snow. Yosemite National Park has three Giant Sequoia groves, all of which remain open in winter. And, the great thing about the groves is there are a number of options for winter activities. You can hike, snowshoe and cross-country ski. There can be temporary closures, so be sure to check before heading to any of the groves.
Take a Scenic Drive
Yosemite is scenic no matter the time of year. Enjoy the magic of winter and take a drive to take it all in while staying cozy in your vehicle. It's possible tire chain requirements will be in effect so come prepared. (I recommend this set of 2 chains.)
Yosemite Valley Loop – No matter what you do in Yosemite in winter, there's a very significant chance you'll end up on the Valley Loop anyway. Take some time to enjoy the 12 mile ride and make as many stops as you like to hike, snap photos, or just take it in. You can also hike this loop (see above)!
Hetch Hetchy Road – this 16 mile drive takes you to some of the parks less visited areas. Visit O'Shaughnessy Dam, hike Wapama Falls and check out Hetch Hetchy Reservoir. Though the road is open year round, there can be occasional snow closures. Be sure to check conditions before heading out.
Winter Stargazing in Yosemite
Winter skies in Yosemite are particularly crisp, which sets the stage for excellent stargazing. Bundle up and head out to Badger or Yosemite Valley to catch some of the most spectacular stargazing California has to offer.
See Yosemite Firefall
Horsetail Fall is a small waterfall that flows over the eastern edge of El Capitan during winter months. Though it can be easy to miss, it has a very special kind of glow up in February. When conditions are just right, usually in mid to late February, a rare phenomenon occurs where Horsetail Fall is backlit by sunset. This causes an orange glow that makes the fall appear to be on fire. Thus, firefall.
The tentative dates are posted here each year, along with more information about how to view firefall. There's never a guarantee that you'll see it, but if you happen to be going in mid to late February, it's worth seeing if you can add Yosemite Firefall to your itinerary.
Snow Play as a Family in Yosemite
Snow play can be a blast for little ones and grown ups alike, and doesn't require any specialty equipment. While the Valley doesn't typically get tons and tons, there's often enough for some snow play. Just be aware of Yosemite winter road closures and be sure to wear proper clothing and shoes.
Have you visited Yosemite before, and would you consider going in winter?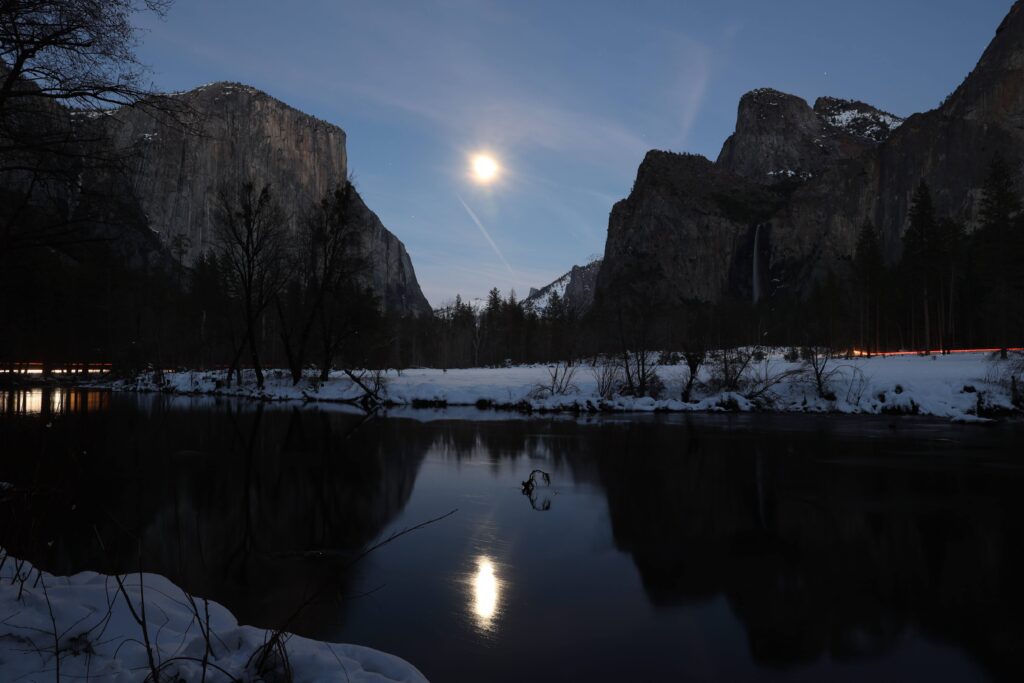 MORE POSTS
IF YOU LIKED THIS POST ABOUT YOSEMITE NATIONAL PARK WITH KIDS, YOU MIGHT LIKE THESE POSTS TOO:
DON'T NEED A LIST OF THINGS TO DO IN YOSEMITE WITH KIDS QUITE YET? PIN THIS POST FOR LATER!