This post may contain affiliate links, which means I may earn a small commission if you click my link but does not change your price. See my affiliate policy here.
Our family has visited a lot of national parks together (over 40 in the US, in fact). And Yosemite National Park is popular for a reason – there's just something special and magical about it. There are so many wonderful things to do in Yosemite with kids. We're spoiled to live just a few hours away, so we've been fortunate to have many visits to Yosemite with toddlers and can't wait to share all our tips with you!
Over the half dozen times we've taken a family vacation to Yosemite National Park over the last few years, we've really enjoyed exploring different parts of the park. We've camped, biked, hiked, picnicked, stayed in a hotel, and driven to viewpoints. We've compiled it all in this Yosemite family guide that we hope is helpful to you.
Plus, we love learning more about places before during, and after visiting so we've included lots of information for a Yosemite virtual tour even if you're not ready to plan a family trip to Yosemite National Park. You'll find out more about the indigenous history with the lands, book recommendations, discussion questions, and more – whether you've never visited or whether you've been 100 times.
I hope you love all aspects of this guide to Yosemite with kids – what to do when visiting the park, where to stay, as well as a virtual field trip if you can't visit Yosemite in person. I hope you enjoy this Yosemite family vacations guide!
Yosemite National Park Books for Kids
Two Bear Cubs: A Miwok Legend from California's Yosemite Valley by Robert D. San Souci (Adapter), Daniel San Souci (Illustrator)
Available on Amazon, Bookshop, Walmart
Featured Yosemite National Park Picture Book
While there are plenty of fantastic Yosemite children's books, this one is my very favorite. A sweet tale based on a Miwok legend that the whole family will love. I've included a read aloud video, but it's very much worth having your own copy!
Here are some other wonderful books about Yosemite for kids:

Facts About Yosemite National Park
Prior to the Gold Rush in 1849, Native Americans were the primary residents of the Yosemite area. They used the land not as a protected space, but as a place for agricultural and everyday life, working in conjunction with nature and its forces.
The post-Gold Rush era opened the land up to tourists through more accessible transportation a knowledge of the areas natural resources. Unfortunately, this uptick in tourism and commercial usage began to damage the Yosemite ecosystem.
The first non-native group to come into Yosemite was the Mariposa Battalion. This group wanted the native Ahwahneechee Native Americans to be removed to reservations. They were not successful, but years of using the land, taking jobs, and destroying villages meant that the native populations shrunk terribly.
The word "Miwok" is a word for the Indian people from several groups in the area.
Yosemite was officially the 3rd United States National Park. However, it was protected by the state of California several decades before that, and inspired the idea of protected lands and a national park system.
Yosemite is famous for its granite rock formations surrounding valley with the Merced River flowing through. El Capitan is the largest granite monolith in the world.
Yosemite is known as the birthplace of rock climbing.
The Ahwahnee Hotel was used as a naval hospital during World War II.
The Buffalo Soldiers were part of a Black U.S. Army regiment that served as early park rangers and cared for the park lands. They stayed at the Presidio in San Francisco during winter months and in the areas of Yosemite and Sequoia National Parks during the summer. They often endured racism and prejudice in their care for and in maintaining law and order in these lands. Here's a podcast episode recreating an interview with a Buffalo Soldier.
Ahwahneechee Facts
The name the Ahwahneechee Indians gave Yosemite Valley was "Ahwahnee."
Black oak acorns consisted of almost 60% of the Ahwahneechee diet.
They performed controlled burns in the Yosemite Valley to manage the undergrowth and oak population.
The people lived in camps at the bottom of the valley in huts called o-chum that were big enough for a family of 6.
Ahwahneechee people did not use teepees, but their homes were shaped like them and made out of incense-cedar bark.
Yosemite Discussion Questions
How would you have reacted if you were the Miwok people and white colonists came to take your land?
John Muir was a conservationist who advocated for protecting public lands for general use. Do you think it was right to take this land away from native people who used it and its resources to protect it for others?
Many public lands are underrepresented in people of color, both with visitors and with employees. The same is true for other marginalized groups. What are some ways to encourage more diversity in National Parks?
Do you feel welcome in public lands? Do you enjoy visiting them? What is your favorite thing about them?
How do you feel when you are able to experience natural beauty? If you were planning a family trip to Yosemite National Park, what are some ways you'd like to experience nature?
Animals in Yosemite
There are about 300-500 black bears inside Yosemite.
Over 400 animal species live in Yosemite.
About 40 of those species are protected under California endangered species legislation.
Mule deer, bobcats, mountain lions, and foxes are other common animals to see.
Over 250 species of birds call Yosemite home, along with many kinds of reptiles and amphibians.
Yosemite Packing List: What to Pack For a Yosemite Family Vacation
Yosemite weather varies quite a bit by season. While the middle of summer can get quite hot, the winter can be snowy and cold. Also, even within the same day, the temperature can vary by as much as 40 degrees! It can be tricky to decide what to pack for Yosemite National Park with your family.
Because of this, it's important to pack a variety of clothing, and to be prepared with layers for a Yosemite family vacation. Here are some of my favorite essentials to pack when traveling to Yosemite with kids!
How To Get to Yosemite National Park
It is easiest to get to Yosemite by car, although there are some tours that will take you from San Francisco. Here are some distances to get to Yosemite from nearby cities and airports (but keep in mind that traffic can be intense coming from the Bay Area):
San Francisco International Airport: 3 hours
San Jose International Airport: 3 hours
Oakland International Airport: 2 hours 40 minutes
Los Angeles: 4.5 hours
Las Vegas: 5.5 hours
Where to Stay in Yosemite National Park: Yosemite Lodging for Families
Camping in Yosemite with an RV and Kids
There are so many options that it can be overwhelming to decide where to stay in Yosemite National Park! If at all possible, I highly recommend staying in the Valley when visiting Yosemite. Any options outside the Valley floor will take 45+ minutes to get to the Valley, so it's much more enjoyable to stay right in the Valley. Our favorite way to spend time in Yosemite is to camp; Upper Pines campground is our favorite because it's set back, near the river, and beautiful.
Camping also makes it easy sightsee via our favorite transportation in Yosemite Valley – bike! The Upper and Lower Pines campgrounds are very accessible via bike to pretty much everywhere in the Valley, from Yosemite and Curry Villages to Yosemite Falls to Mirror Lake.
RV camping is also a possibility in several of the campgrounds, as are a few cabins, tent cabins, and the open-air Housekeeping Camp. You can find all the in-park lodging options here. (Here are reviews on the Curry Village (formerly Half Dome Village) housing options!)
Here's some of our favorite camping gear:
Hotels in Yosemite Valley for Families
If you'd prefer a less rustic experience, Yosemite Valley Lodge (reviews here) and the Ahwahnee Hotel (reviews here) are both beautiful options in the Valley. They're classy and historic and super accessible to Yosemite's gems. I highly recommend both of these hotels if you're not up for camping in the Valley. The Wawona Hotel (reviews here) near the southern part of the park is perfect if you're interested in visiting Mariposa Grove.
Lodging Outside Yosemite Valley for Families
If you can't find a good option to stay in the Valley, our favorite hotel just outside the park is Rush Creek Lodge. (See all the amazing reviews here.) It's a wonderland for kids! At only 40 minutes from Hetch Hetchy and a few minutes more to Yosemite Valley, it's a beautiful and convenient option for staying outside the park. Plus, it's almost a destination in itself with all the fun activities there – it's for sure one of the most kid friendly hotels in Yosemite National Park!
Our kids wanted a full day just to hang out at the lodge. With a heated pool and hot tub, an entire indoor game room and play area (with ping pong, a climbing tunnel, foosball, arcade games, board games, a giant fireplace, and more), and a HUGE playground with zip lines and giant slides, all in a beautiful setting, it was a dream to stay with kids. Plus, they have two-bedroom family suites and s'mores every night by the fire, so you really can't go wrong if you stay here. It's truly one of the very best places when deciding where to stay in Yosemite National Park with toddlers and big kids. The Evergreen Lodge (reviews here) is the sister property that is even closer to Hetch Hetchy. Both are wonderful, family friendly hotels in Yosemite National Park.
There are also a number of Yosemite National Park kid friendly hotels and home stays that are available in the area. Some options are the Yosemite Lodges at Big Creek Inn in Fish Camp, Yosemite Westgate Lodge, the Yosemite Lakes RV Resort, the Holiday Inn Express in Merced. Those are all great when planning where to stay in Yosemite National Park with family. Here are a few more options for family lodging near Yosemite!
Where to Eat In Yosemite National Park
Yosemite has plenty of options to dine. Both the Ahwahnee and Yosemite Lodges have nicer dining options, while Yosemite Village and Curry Village (formerly Half Dome Village) have several faster and more casual options.
The Village Store in Yosemite Village is actually a decently stocked little grocery store to pick up any supplies. I wouldn't plan on doing a full grocery trip there (it is a small store, after all), but it's great if you forget a few things. Whenever we camp, we make and pack food at our campsites, and it's nice to have this option if we forget something.
If you'd prefer to head outside the Valley, both Mariposa (the town, not the grove) and Wawona have several options.
How to Get Around Yosemite: Yosemite Transportation Travel Tips
I think the very best way to get around Yosemite Valley is by bike. It's so fun and way less tiring on little legs than walking miles and miles. And you can beat the crowds this way, too! The Valley is very flat and bike-friendly, even for little kids, and it's easy to go on trails or sidewalks to stay safe. (I shared the best bikes for kids and the best bike trailer up above in what to pack.)
I also recommend having a car if possible. While you won't want to drive around the Valley, having a car will make it possible to visit places like Glacier Point, Sentinel Rock, and Mariposa Grove. While in the Valley, I recommend parking your vehicle early to snag a spot, and then getting around via bike or on foot.
Best Time to Visit Yosemite National Park
We've visited Yosemite with kids in all four seasons, and all have been incredible in their own way. Truly, there's not a wrong time to visit Yosemite. Every season is the best time to visit Yosemite.
Summer is, of course, the most popular. Early summer has plenty of water, and later on it's hot enough that the chilly snowmelt feels refreshingly cool. Summer also brings enormous crowds, however, so it's one of my least favorite times to visit the park.
September is magical because it's still quite warm (though the nights get quite chilly), but the crowds have mostly dispersed. The weather tends to be pretty consistent with little rain. Many of the waterfalls (and Mirror Lake) will likely be dry, however, so it's not the time to go if you want to see gushing water.
The spring, especially May, is amazing because of exactly that – the water is usually really powerful and awesome! I love seeing the Merced River high and flowing, and it's incredible to see the waterfalls all flowing full force. May weather can be dicey, though – snow is not unheard of!
Winter in Yosemite is also stunning in its own way. Some years, there's tons of snow, and other years, there's hardly any at all. In fact, we were there this past February and temperatures were in the low 60s with no white stuff on the ground at all. I wouldn't tent camp in winter unless you have some serious cold-weather gear, but we loved staying at a lodge and LOVED having the park so quiet with hardly anyone around.
Basically, with the right gear and clothing, Yosemite will be magical whenever you go!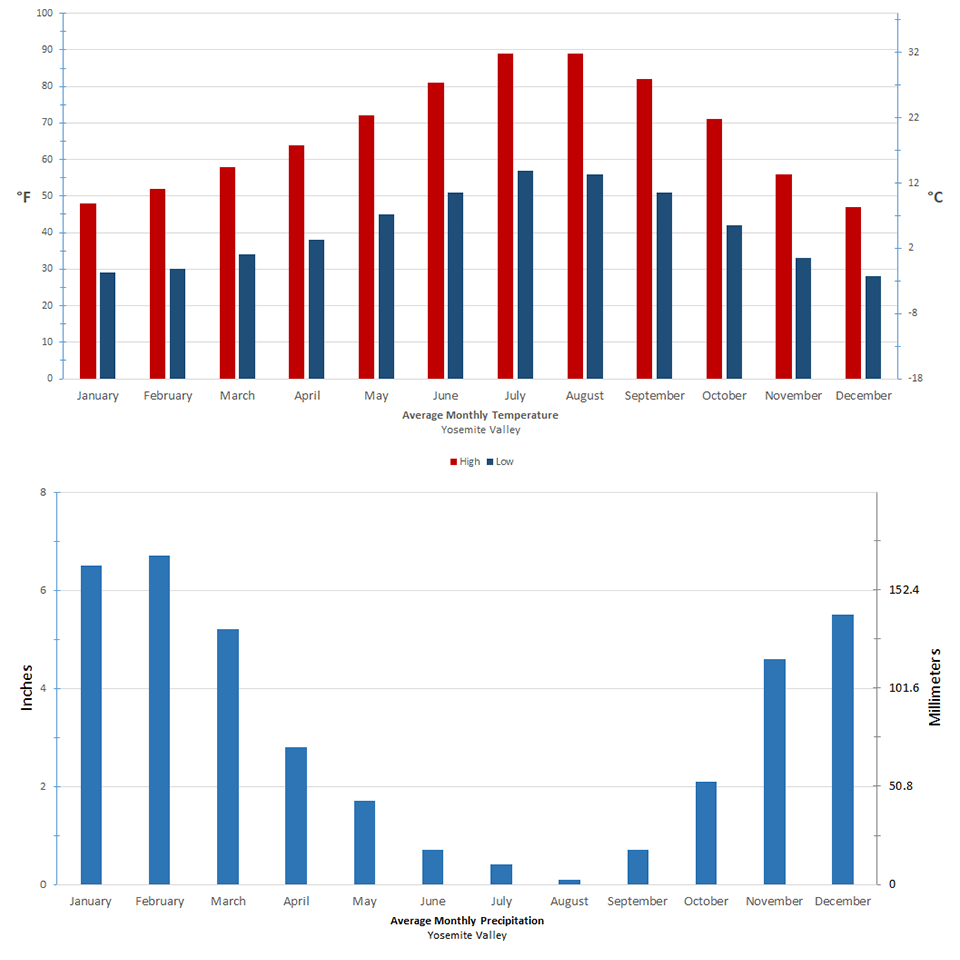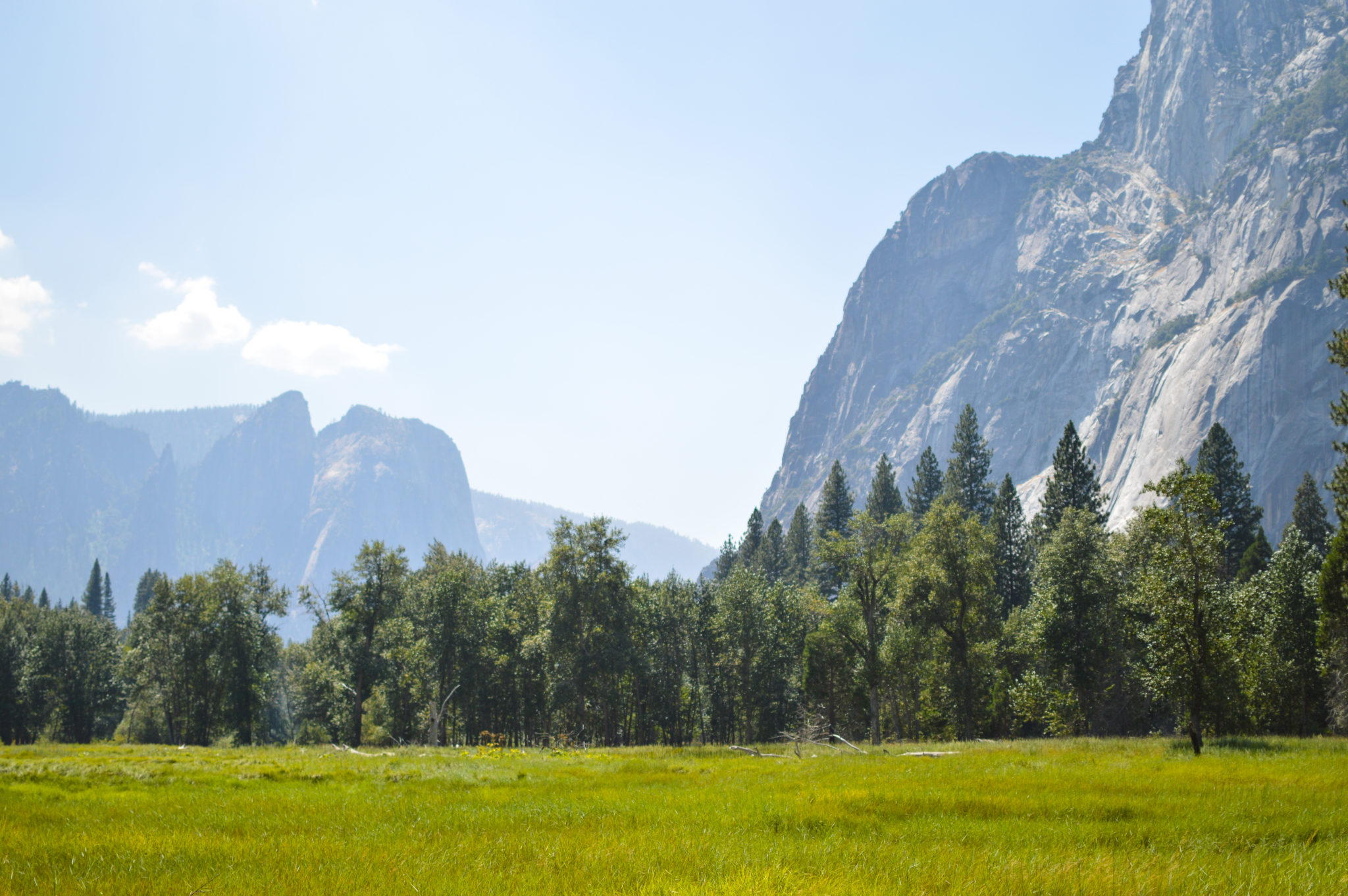 Things To Do in Yosemite National Park With Kids: Easy Yosemite Hikes
There are so many easy Yosemite hiking trails to hike as a family! While you don't have to hike to enjoy Yosemite National Park, it's definitely one of my favorite suggestions when planning what to do in Yosemite since it can be great for families of all ages and abilities. I'll group my favorites into 2 areas: Yosemite Valley hikes and hikes outside Yosemite Valley.
Best Yosemite Valley Hiking Trails
Lower Yosemite Falls Trail with Kids
Distance: 1 mile
Elevation Gain: 50 ft
Accessibility: paved path; eastern portion of loop is wheelchair-accessible
This trail is a must do for any first-time (or otherwise!) Yosemite visitor. It's short and also paved, so it's accessible and also doable with a stroller. This is a great Yosemite hike with toddlers. You'll have views of the spectacular falls for much of the way, and if you go when they're rushing, prepare to get soaked when you get up close (if you'd like. you can also also stay far enough away/to the side so that you won't get wet). The falls are often dry from late summer into early fall.
While the main trail will usually have lots of people, you can pull off to a little side trail (just after the little bridge and to the left on the way in) for some beautiful views/photos of both Yosemite Creek and the falls. Keep in mind that this waterfall is often dry from mid-summer through the fall.
If you're a bit brave and sure-footed, you can climb up a side path along Lower Yosemite Falls to a pool at the top of the lower falls. The water is frigid, but it's stunning up there and fun to climb. I would keep very young children in a carrier, but our then-8 and 6 year olds were fine.
Here's a video to learn more about Yosemite Falls!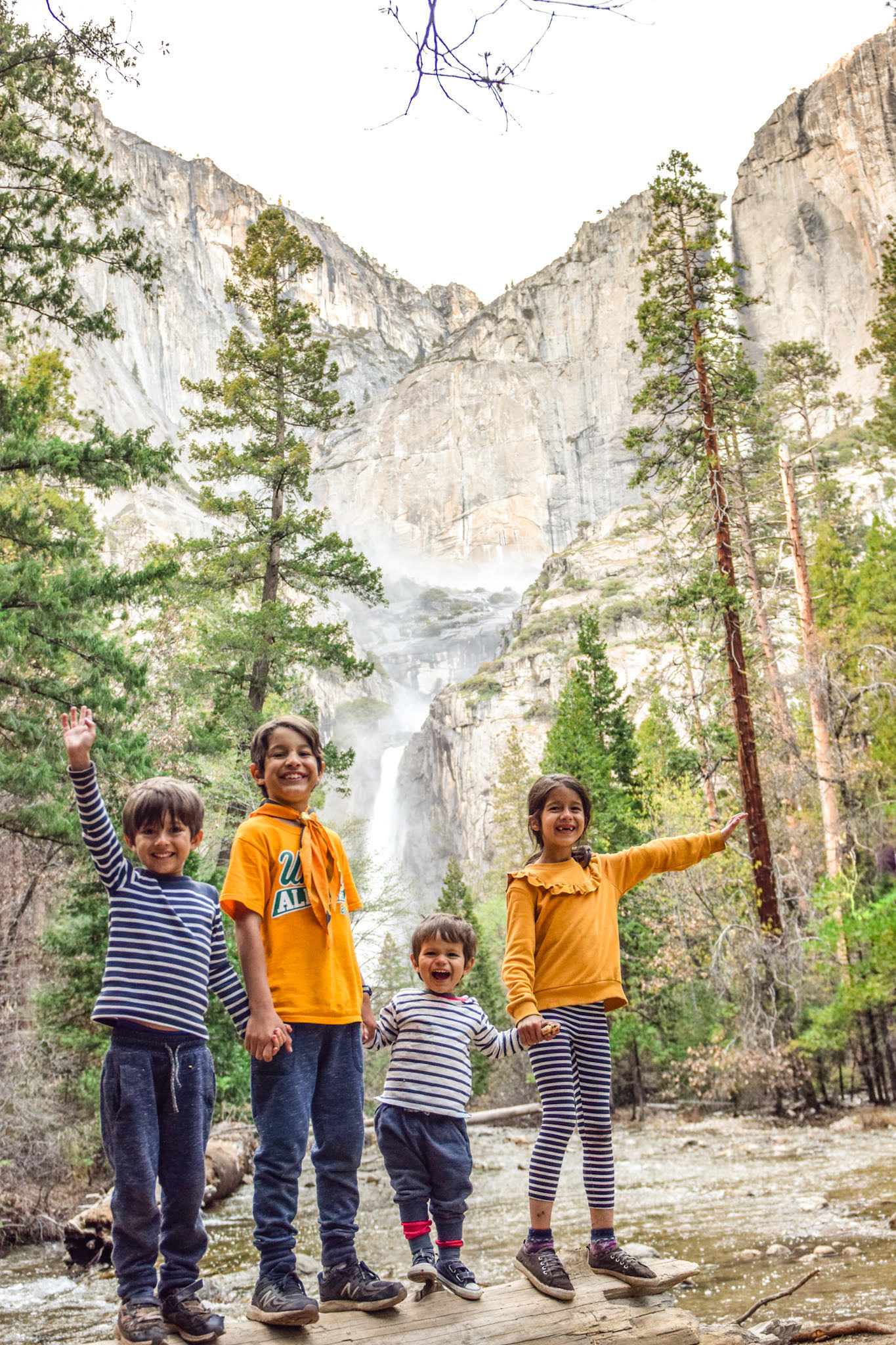 Sentinel Dome Trail with Kids in Yosemite (OR Taft Point and The Fissures)
Distance: 2.2 miles
Elevation Gain: 456 ft
Accessibility: not wheelchair- and stroller-accessible
Sentinel Dome might be my very favorite hike in Yosemite with kids. It's just over 2 miles, out and back, and leads to some of the most stunning 360 degree views of Yosemite Valley. In fact, the views are very similar to the ones you get after ascending Half Dome – except this hike is much easier, and you get to see Half Dome as part of the view! Plus, the end includes scrambling up a giant rock – a super fun activity in Yosemite for kids. This hike is one of our favorite things to do in Yosemite with kids.
There's some elevation gain, but is doable even with young kids. There isn't tons of shade, so I recommend going early in the morning or late in the day. It can get chilly and windy at the top so be prepared with a layer or two just in case. And definitely keep a close eye on little ones at the top – there are some steep drop offs.
Another option from the same parking lot is heading the other direction to Taft Point and The Fissures. The views are very similar to Sentinel Dome and equally beautiful. Just be very careful, especially with little ones, on this hike – the Fissures are giant crevices in the rock that appear seemingly out of nowhere!
Note that these hikes are only open when Glacier Point Road is open. Combine them with a stop at the point for another great view.
Mist Trail with Kids (to Vernal Falls)
Distance: 1.6 miles to bridge, 2.4 miles to top of Vernal Falls
Elevation Gain: 400 feet to bridge, 1000 feet to top of Vernal Falls
Accessibility: not wheelchair- or stroller-accessible
This is another truly breathtaking hike when visiting Yosemite with kids. The trail to the Vernal Falls footbridge, about .8 miles one way, has a spectacular view of the falls. You can continue beyond that to climb the steps up the side of the falls for an amazing up close view of the falls, as well as of the Valley. To get all the way to the top of Vernal falls is about 1.2 miles one way.
Mirror Lake Trail with Kids in Yosemite (or Mirror Lake Loop)
Distance: 2 miles to get to the lake, or 5 miles if you do the full loop around the lake
Elevation Gain: 100 feet
Accessibility: 2 miles out and back to the lake are on a paved trail; rest is not wheelchair- or stroller-accessible
My favorite way to get to Mirror lake is actually not to hike, but to bike! The road up is closed to vehicles, making it perfect for biking with little riders. If you can't bring your own, look into renting bikes at Yosemite Village or Curry Village. We love love biking from the campground at Upper Pines, just about 3 miles round trip.
Once you're at the lake, it's easy to find your own little piece of heaven to play in the water (in spring and early summer) and gaze up at Half Dome above you. If you're there in late summer or fall, the lake will likely be dry, but it's shallow enough that you can climb in and run around – so fun for kids.
If you decide to do the full loop around the lake, it's mostly flat and a lovely walk. We like going counterclockwise and ending up at the rocks and either the water or the dry river bed to play!
Bridal Veil Falls with Kids
Distance: 0.5 miles
Elevation Gain: 80 ft
Accessibility: paved trail but not wheelchair-accessible due to the grade
This is another classic Yosemite Valley stop, and a very short hike! The whole thing is only about half a mile total out and back, so it's perfect even when visiting Yosemite with a toddler. The falls itself are fuller after the snowmelt, with a beautiful arc and plenty of fun rocks to climb; just be careful, especially if they're wet.
Note that this trail is currently closed for reconstruction, although you can still see the falls from the parking area. Also, though the trail is technically not wheelchair-accessible due to the grade, we've taken a stroller on it and felt fine.
Cook's Meadow Loop with Kids
Distance: 1 mile
Elevation Gain: flat
Accessibility: wheelchair- and stroller-accessible
If you're looking for a super easy trail with spectacular views, Cook's Meadow has you covered. You'll have spectacular vantage points of Half Dome, Glacier Point, and Yosemite Falls, all from a flat walk through beautiful Cook's Meadow. The whole trail is also accessible (though it may be snowy in the winter) and is a great family friendly activity in Yosemite.
Yosemite Hikes with Kids Outside Yosemite Valley
While the above hikes are in Yosemite Valley or along Glacier Point Road, the other areas of the park are very worth visiting, as well. Three notable other areas are Hetch Hetchy, Mariposa Grove (near Wawona), and Tuolumne Meadows.
Hetch Hetchy with Kids: Wapama Falls
Distance: some info says 4.6 miles, some says 5.5 miles. We clocked in at around 5.3.
Elevation Gain: 954 ft
Accessibility: NOT wheelchair- and stroller-accessible
Hetch Hetchy, in a way, feels like a mini Yosemite Valley, and also gives a pretty clear picture of what the Valley would've been like had it been allowed to be dammed, as well. This hike doesn't have a ton of shade, so I recommend trying to start early and taking plenty of water (or go in February, like we did).
Mariposa Grove with Kids
Mariposa grove is the largest grove of giant sequoias in Yosemite. It was the first area of what is now the national park to be protected by President Lincoln. There are two great, family-friendly trails at Mariposa Grove.
To get to the grove, most people park at the parking lot near the Yosemite south entrance. From there, there's a shuttle that will take you the two miles to the Grove. (Note: there are no shuttles running in 2020 due to COVID-19. Shuttles also do not run from November-March.) Alternatively, you can hike or bike the two miles to the Grizzly Giant parking area (although bikes are not allowed past there on the trails). (Those with a disability placard may also park there).
Mariposa Grove Big Trees Loop Trail
Distance: 0.3 mile loop
Elevation Gain: flat
Accessibility: wheelchair- and stroller-accessible
This loop is accessible and beautiful, with expanatory panels and huge trees. Perfect for any visitor.
Mariposa Grove Grizzly Giant Loop Trail
Distance: 2 mile loop
Elevation Gain: 300 ft
Accessibility: A portion is wheelchair- and stroller-accessible
Wind through a forest to see these magnificent redwoods. The 3,000 year old Grizzly Giant and the California Tunnel Tree are both here.
Tuolumne Meadows with Kids
Soda Springs and Parsons Lodge
Distance: 1.5 miles
Elevation Gain:
Accessibility: NOT wheelchair- and stroller-accessible
Historic lodge and bubbling water. An easy and simple hike for the family.
Tenaya Lake Trail
Distance: 3.4 miles
Elevation Gain: 196 ft
Accessibility: NOT wheelchair- and stroller-accessible
A beautiful lake trail with spectacular views around Tuolumne Meadows. Super clear water so bring your swimsuits, and also bring bug spray for this hike as mosquitoes tend to hang around in the summer.
Gaylor Lakes
Distance: 2 miles
Elevation Gain: 500 ft
Accessibility: NOT wheelchair- and stroller-accessible
This hike provides several views of small lakes, as well as gorgeous high country scenery. Start at the Tioga Pass Entrance Station.
Hiking in Yosemite with Older Kids
While most of the hikes above are accessible to kids and families of all ages, here are some other hikes that may suitable for older kids or ambitious families. These are definitely not jokes to attempt when visiting Yosemite with a 2 year old, but are great for older, more experienced children (generally middle school+):
Things to do in Yosemite with Kids: Best Yosemite Viewpoints
Tunnel View
It hardly gets more iconic Yosemite than Tunnel View. As soon as you cross through the Wawona Tunnel into Yosemite Valley, you'll be met with wide open spaces and scenery. With views of El Capitan, Half Dome, Bridal Veil Falls, and the rest of the Valley, it's stunning. Dusk/sunset makes for especially grand photos, but the views are worth a stop anytime.
The drive is only about 10 minutes up from Bridal Veil Falls, so it's easy to combine the two. Just know that if you go at a busy time, you'll likely have to wait for parking! If you find it's too busy for a prime photo point, you can head up the 1.2 mile trail to Inspiration Point. The trail only has a couple of prime photo points, though – one at the beginning, and one at the end – as much of the time the views are obscured by trees.
Glacier Point
Glacier Point is another quintessential Yosemite viewpoint. It takes about an hour to drive up here from the Valley, but is well worth the trek. It's not too far from Sentinel Dome so I recommend combining the two. Glacier Point road will be closed for 2021, so be sure to go while you can!
Washburn Point
This is another beautiful viewpoint off of Glacier Point Road, but from a slightly different angle than Glacier Point. It's worth the quick stop.
What To See in Yosemite with Family
If you have limited time and are wondering about the top things to see in Yosemite, here are some of the best things to see in Yosemite:
Lower Yosemite Falls
Bridal Veil Falls
Glacier Point
Sentinel Dome
Cook's Meadow
Tunnel View
Merced River
Other Things to Do in Yosemite With Kids: Fun Activities in Yosemite
If you're still not convinced and are wondering, "Is Yosemite kid friendly," here are a bunch of other activities that are perfect for a Yosemite family vacation:
Junior Ranger Program for Kids in Yosemite
The Yosemite Junior Ranger program is really well done with different books for different age groups. Know that while many Junior Ranger programs are free, the Yosemite book costs $3.50 to purchase. But it's well worth the cost, as the book is really well done and appeals to a variety of ages. While technically, the booklet is recommended for ages 7+, we've had our 4 and 5 year olds do it if they were comfortable readers or really interested.
After completing the book and a few other requirements (picking up trash and attending a Ranger program), kids can get either a badge or beautiful Yosemite woven patch. Some rangers are extra kind asnd give both!
For younger visitors, the Little Cub booklet is available for kids ages 3-6. It's very cute! Kids only get a big sticker when they complete it, though, so be aware if your child has an older sibling that gets a different badge (that they will then want, of course).
You can pick up the booklets in the visitors centers (and sometimes the nature centers, depending on the season). It's one of the best Yosemite kids activities!
Water Play in Yosemite for Kids and Grown Ups
Yosemite affords plenty of options for water play – perfect when visiting Yosemite with young kids. We love playing in the Merced River where the water is shallow. One of our favorite spots is near the bridge by the Upper and Lower Pines campgrounds, where the water is calm and and perfect for wading. We also love the area by Sentinel Bridge in Cook's Meadow, as well as a little further down the river toward the park exit. There are several shallow areas where cars can pull over to the side of the main park road, and you can walk down to the river area. Super fun to play on a hot day and especially perfect if you're visiting Yosemite with toddlers.
Additionally, we love playing in the water at Mirror Lake (when it has water), as well as at the pool at the top of Lower Yosemite Falls. Be aware that both of these will be very cold!
Finally, when the water is a bit higher (late spring and early summer), it's really fun to float downstream on a tube. Wear a life jacket and be sure to check conditions – floating isn't allowed when the water is too high due to safety reasons.
Snow Play as a Family in Yosemite
On the other hand, if you're looking for things to do in Yosemite in December or planning for Yosemite in winter, snow play can be really fun for little ones and grown ups alike! While the Valley doesn't typically get tons and tons, it's certainly enough for some snow play. Just be aware of Yosemite winter road closures!
Biking in Yosemite with Kids
I mentioned that my favorite way to get around the Valley is to bike. It's also one of our favorite Yosemite activities for families! The Valley is very flat, making it perfect for biking even with young riders. The sidewalks and bike paths make it very safe, as well. There's just nothing like biking with fresh air and views of Half Dome!!
If you have some older or more experienced bikers, there are plenty of more strenuous bike routes, as well. Either way, biking definitely tops my list of things to do in Yosemite for kids.
Rock Climbing (or Watching!)
Yosemite is known for having some of the best rock climbing in the world. It's like a natural playground! Little ones will love scaling some big boulders, and more experienced individuals can do some technical climbing on their own or as part of a tour group when visiting Yosemite.
If climbing isn't your thing, it's still super fun to watch others do it! Head to El Cap meadow to watch the really experienced climbers as they scale this enormous rock formation.
Picnicking in Yosemite with Kids
Perhaps you just want to chill and take in the surrounding beauty – Yosemite is great for that, too! If you prefer to just relax and enjoy nature, I recommend packing a picnic and heading to either Cook's Meadow or El Capitan Meadow (my favorite). You'll be surrounded by spectacular views and plenty of open space. It's one of our favorite things to do in Yosemite with toddlers!
Yosemite Caves
Yosemite has a few caves that are perfect for visiting with kids. The easiest to access and most family-friendly is not really a cave, but more a pile of large boulders, but little ones will think it's super fun regardless. And since it's on the way to Mirror Lake, it's a great opportunity to combine the two. Here's more info about how to get to the Indian Caves in Yosemite with kids.
Work on Survival & Safety Skills
Being out in nature is a perfect opportunity to work on some survival and safety skills. Think, first aid, pocketknife skills, knot tying, review water safety, food storage (using bear boxes and bear safe trash cans!), and hiking safety (always stay with a buddy and leave no trace).
Here's a list of survival and safety skills for kids that you can review whether backyard camping or heading out into nature!
Go to Church in Yosemite
Are you surprised? Yosemite Chapel is actually a functional worship space during the summer months! There are a few services for different denominations, and all are open to anyone. Even if you're not religious, the historic and beautiful little chapel is worth a visit.
Yosemite Videos and Movies to Enjoy Yosemite With Kids
These are some fantastic videos for a Yosemite virtual tour!
Enjoy Your Visit to Yosemite with Kids!
We've loved putting together this Yosemite travel guide to take an in person or virtual visit to Yosemite with kids. We'd love to hear if you do any of these activities for a on a family trip to Yosemite!
We hope to inspire curiosity and connection through exploring and learning, and we hope this guide helps you and your families. Please share any activities you do with us over on our Instagram. And we'd be delighted if you passed this guide to Yosemite with kids along to others, as well!
MORE POSTS
IF YOU LIKED THIS POST ABOUT YOSEMITE NATIONAL PARK WITH KIDS, YOU MIGHT LIKE THESE POSTS TOO:
DON'T NEED A LIST OF THINGS TO DO IN YOSEMITE WITH KIDS QUITE YET? PIN THIS POST FOR LATER!