This post may contain affiliate links, which means I may earn a small commission if you click my link but does not change your price. See my affiliate policy here.
If you're planning a trip to Yosemite National Park, you've come to the right place! There are so many options that it can be overwhelming to decide where to stay in Yosemite. Here are some different options for where to stay on a Yosemite family vacation.
Where to Stay on a Yosemite Family Vacation
There are a few different options for areas to stay when visiting Yosemite National Park. If possible, I recommend finding Yosemite family lodging in "the Valley." The Valley is the main, most popular area of Yosemite National Park. It's where the lodges, couple of restaurants, and other amenities are, as well as many trails. It's a fairly flat area surrounded by tall cliffs and beyond being convenient, is absolutely beautiful.
Aside from the Valley floor, there are backcountry camping options still within the park either a drive or hike away from the Valley.
Beyond that, there are a few lodging options just outside the park. Any of these options, however, will require a 40-45 minute drive to get to most destinations within the park (the Valley, Hetch Hetchy, Tuolumne Meadows, or other areas), so be sure to take that into account when planning your days.
Camping in Yosemite for Families
Camping Inside Yosemite National Park
Our favorite Yosemite lodging for families is for sure camping in the Valley. Yosemite National Park has 13 campgrounds, and four of them are open year round. Check out this page for more information about the different campgrounds in Yosemite National Park.
There are four campgrounds located in the Valley. In the Valley, there are four campgrounds. Upper Pines campground is our favorite because it's set back, near the river, and beautiful. It's also open year round!
Camping in the Valley also makes it easy to sightsee around the Valley. That's because you'll have built in parking where you can leave your car, trailer, or any supplies (like a tent). Then if you have them with you, you can take bikes directly from your camp site to explore the entire Valley. It's convenient, doesn't require finding parking, and absolutely stunning! The Upper and Lower Pines campgrounds are generally accessible via bike to most places in the Valley, from Yosemite and Curry Villages to Yosemite Falls to Mirror Lake.
Camping Near Yosemite National Park
The Big Oak Flat entrance is about 30 minutes from Yosemite Valley, where you can find the Diamond O Campground, Lost Claim Campground, and Pines Campground. The Arch Rock entrance is only about 20 minutes from the Valley, where the Dirt Flat Campground and Dry Gulch Campground are great options.
The South entrance is a bit further out from the Valley (45-50 minutes). There are a number of camping options here, as well – Summerdale, Big Sandy, Fresno Dome, and Nelder Grove Campgrounds are all good choices.
RV Camping, Tent-cabins, Glamping and Cabins in Yosemite: Alternative Yosemite Family Lodging
Nine campgrounds in Yosemite allow RV camping as an option. Three of these campgrounds are located in the Valley and all are accessible to trailers up to 35 ft.
If you'd prefer not to camp, a few cabins and tent cabins are located in Curry Village. These are close to multiple dining options, the shuttle, and even a pool nearby. (Here are reviews on the Curry Village housing options.)
Housekeeping Camp, which sits on the Merced River, is another popular option. These three-sided cabins have blankets and heat and bedding, and are convenient and comfortable. You can find more info on all the in-park lodging options here.
If you head just outside the Arch Rock park entrance, Indian Flat RV Park is clean and comfortable. The High Sierra RV & Mobile Park is just a bit further, near the South entrance to Yosemite.
AutoCamp Yosemite is a great glamping option, and offers airstream trailer rentals, as well as tent-cabins.
Best Yosemite Hotels With Kids on a Yosemite Family Vacation
Hotels in Yosemite Valley for Families
Yosemite Valley also has a couple lodge hotels if you'd prefer something other than camping but still want to be close to all the action. Yosemite Valley Lodge (reviews here) and the Ahwahnee Hotel (reviews here) are both great Yosemite lodging options for families. Both are classy, historic, super accessible to Yosemite's gems. I highly recommend both of these hotels if you'd rather not camp in Yosemite. The Wawona Hotel (reviews here) near the southern part of the park is also a great choice for a Yosemite family vacation if you're interested in visiting Mariposa Grove.
White Wolf Lodge is located 30 miles outside Yosemite Valley and offers cabins and tent cabins in a more secluded area of the park. Tuolumne Meadows Lodge is a bit further and on the popular Tioga Pass, which opens seasonally. It's a really beautiful area for camping in canvas tent-cabins on the Tuolumne River.
Hotels Outside Yosemite National Park for Families: Best Yosemite Family Hotels
Our favorite Yosemite hotel for families which is just outside the park is Rush Creek Lodge. (See all the amazing reviews here.) It's a wonderland for kids and only about a 40 minute drive to Hetch Hetchy (a few minutes more to Yosemite Valley). Plus, the lodge is one of the most kid-friendly hotels in Yosemite National Park and is almost a destination in itself with tons of fun activities on site. It's perfect for a Yosemite family vacation!
Our kids enjoyed a full day just hanging out at the lodge. The heated pool and hot tub, indoor game room and play area (with ping pong, a climbing tunnel, foosball, arcade games, board games, a giant fireplace, and more), and HUGE playground with zip lines and giant slides were all a big hit. Plus, the setting is beautiful!
Rush Creek has a number of room options, including two-bedroom family suites. They also host s'mores every night by the fire, so you really can't go wrong if you stay here. It's one of the best Yosemite family hotels when deciding where to stay in Yosemite National Park with toddlers and older kids. The Evergreen Lodge (reviews here) is the sister property and is closer to Hetch Hetchy – it's only one mile from that entrance. Both are terrific, kid-friendly hotels near Yosemite National Park.
There are also a number of Yosemite National Park family friendly hotels that are available and convenient in the surrounding area. Here are some options:
There are also some beautiful vacation homes in the area for a Yosemite family vacation. Here are some great ones: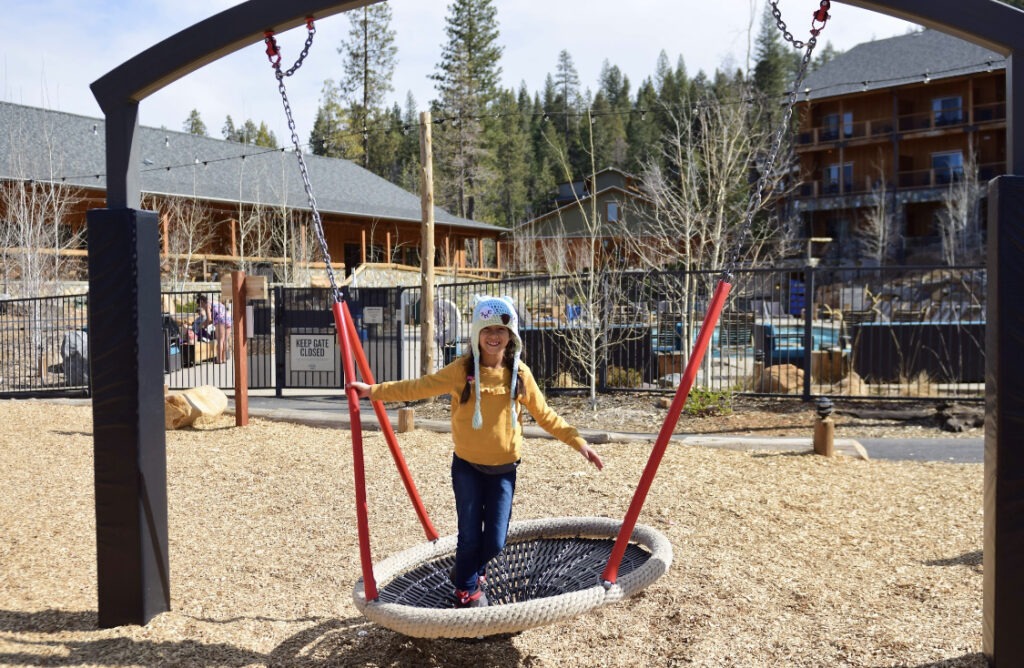 Have you visited Yosemite National Park with kids before? If so, where did you stay? Feel free to drop any questions or comments!
MORE POSTS
IF YOU LIKED THIS POST ABOUT LODGING DURING A YOSEMITE FAMILY VACATION, YOU MIGHT LIKE THESE POSTS TOO:
DON'T NEED A LIST OF THE BEST PLACES TO STAY IN YOSEMITE FOR FAMILIES QUITE YET? PIN THIS POST FOR LATER!