This post may contain affiliate links, which means I may earn a small commission if you click my link but does not change your price. See my affiliate policy here.
I am SO excited to start up a series of posts on visiting India with kids! It's such a fascinating, vibrant country, and our family travel there molded our perspectives. It is NOT the easiest place to travel – especially with kids – but it sure is rewarding.
Here are 7 reasons to visit India with kids in tow!
1. It's Unique. More than anything in family travel, it's important to me that we are learning, growing, and engaging – with each other and with natives of wherever we visit. While we obviously consider other factors, such as cost, ease of travel, flight routes, etc., our personal biggest WHY is to expand our minds and our hearts.
And India allows that – big time. It is truly so different from any other place we've visited – in ways both good and bad. Everything from the food to the clothing to the progression of the land and government is unique to India, and it creates a very rich learning experience for adults and kids alike.
2. It's Welcoming. Kids are accepted with open arms in India. No one typically bats an eye if your child cries (although they may try to offer a treat to console him/her). People in general tend to just not be bothered by kids acting like, well, kids. There's a general mindset that while kids should absolutely show respect, especially to elders, they're still kids who want to run and play and eat treats. And that's really refreshing.
It makes it a very unstressful place to take children in terms of not feeling like you have to constantly shush them or have them sit perfectly still.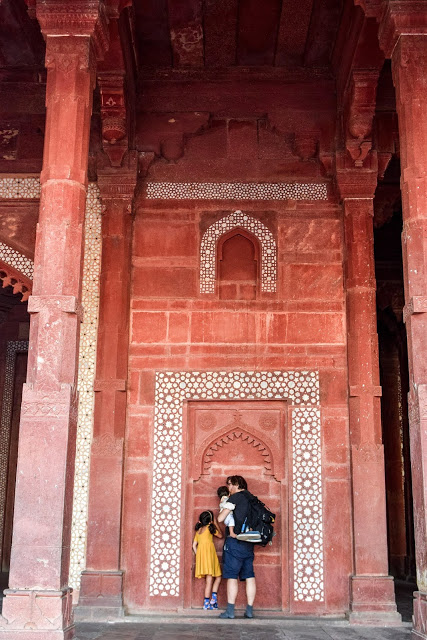 3. It's Vibrant. I don't know about your kids, but at least a couple of mine tend to want to throw every color available on a page when they're doing a craft. The more color, the better! And that seems to be India's motto, too. There is color everywhere you look, and it's eye-catching for kids and adults alike. There's just something so fun about candy-colored clothing filling every crowded street, and about a rainbow of bangles and fruit and even decorated animals.
4. It's Cheap. The cost of living in much of India tends to be very low, and many currencies tend to fare well there. Coming from the US, we got a very strong exchange rate, so already inexpensive food seemed laughably affordable. One of my very favorite meals was one during which our family plus my parents all stiffed ourselves silly of incredible, award-winning dosas – all for under $9 for the whole group.
While flights into the country can be pricey, once you're there, it tends to very reasonable. Accommodations, meals, and sites can all be enjoyed for minimal costs.
5. It's Easy. Let me explain what I mean by that. This ties in closely to expense. While in Europe, we made a big effort to take public transit, cook our own meals, and look for free/inexpensive/discounted activities. We didn't put huge limits on ourselves because we were there to experience the place, but we did make a conscious effort to enjoy those experiences while minimizing costs.
India is different, though. Because it's so cheap, we felt comfortable "splurging" a bit on things like frequent Ubers (still in the single USD digits even when going across town), and didn't spend time cooking our own meals. Help is readily available there, for everything from carrying luggage to preparing breakfast to being a personal driver. We always made sure to tip generously, but especially if you're willing to pay well (which is still very inexpensive by American standards), there are a lot of conveniences that can be purchased – which is especially helpful with kids in tow.
6. It's Diverse. There are so many geographic variations in the country, and food, culture, music, even religion vary greatly across the subcontinent. It makes for an extremely engaging visit – there's so much to learn and experience that you could spend decades and not know it all, but it sure is a fun opportunity to get a taste of so much variety right within one country.
It's also fairly easy to get from various cities in India to other cities around Asia. We took a short flight from India to Malaysia on our way back to the US. While we didn't have time that trip to explore much, we'd love to plan a longer stopover on a future trip. (Check out this post for some family-friendly things to do in Malaysia!)
7. The FOOD. Could I talk about India without talking about food? Indian food has a reputation for being tongue-burningly spicy (and it absolutely can be) but it doesn't always have to be. Smaller towns are trickier as they're less likely to have non-Indian options, but even they will always have plain rice, curds (curd rice is an absolute staple throughout India), and some sort of sweet.
Speaking of, Indians are very committed to their sweets, and have a plethora of neon-colored, syrup-soaked treats that seem to call children by name (not to mention a slew of vendors itching to get them into the hands of little ones). Plus, there are fruits that come in every shade of the rainbow, along with fresh juices galore (just be careful of washing methods – if something has been washed in unpurified water, it could potentially cause stomach illness). Beyond that, there are tons of crunchy snacks – peanuts, crunchy fried bits, and so much more.
There you have it! Seven great reasons to take your kids to India. I'd love to hear – have you been? Would you ever take your kids?
Stay tuned in the coming days for some thoughts on what is HARD about taking kids to India, itineraries, packing lists, travel tips, and more!