This post may contain affiliate links, which means I may earn a small commission if you click my link but does not change your price. See my affiliate policy here.
Oh, Santorini. It's the stuff dreams are made of, right? We stopped in Greece for about a week on our way to the Middle East in August of 2014 and we just fell in love with the country. The food, the warmth (both in disposition and sunshine), the history, the beauty. It was all wonderful! Keeping reading for all our tips on visiting Santorini with kids!
While Athens can be a bit gritty in places (and, frankly, is part of why I love it), Santorini epitomizes Greek dreaminess. With its classic white and blue buildings, and gorgeous waters, it's pretty picturesque. Greece with kids is pretty magical and Santorini with kids is a great place to experience that magic.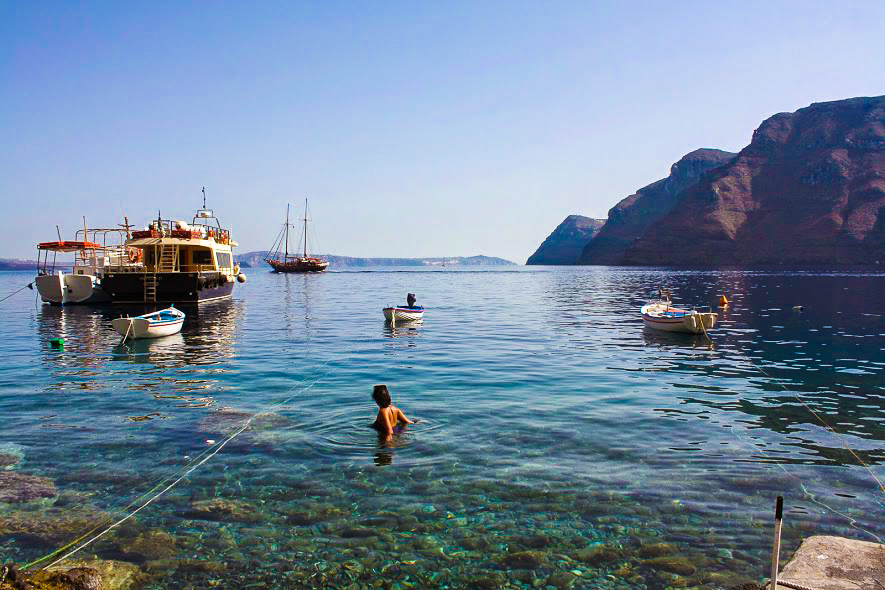 Santorini can be pretty adult- (and couple-) focused, so I don't know that it's somewhere you'd want to spend an extended amount of time with kids. But it's so beautiful, and so quintessentially Greek, that we really didn't want to miss out on seeing the caldera and the gorgeous architecture.
How many days to spend in Santorini with kids?
For all its beauty, we did find Santorini to be fairly touristy, so it's not necessarily someplace I'd want to spend an entire week. But 2-3 days as a side trip from all the history and culture and learning of Athens? Totally perfect amount of time to spend.
_________________________________________________________________________________
I'm so glad we went, and we found a number of things that were delightful and also family-friendly. Here are some of our favorites things to do in Santorini with kids to help with your planning!
Things to do in Santorini with kids
1. Take a caldera boat tour.
There are a million different options to explore the volcanic crater in which Santorini is perched. This was the perfect way to kick off our holiday and it was fascinating climbing the volcano (your kids will need to be willing to either hike or be in a pack for this, as it's not stroller-friendly), swimming in the hot springs, and seeing a bit of the beautiful town of Oia.
2. Stay off-the-beaten-path.
3. Take the cable car.
A cable car connects the port with the town of Thira, and the stop was about a 15 minute walk from our hotel (once we, ahem, figured out where we were going…). The views are just spectacular and our kids (and we!) loved it. A cable car ride is a great way to break up all the beach time on your family holiday in Greece.
4. Swim in Amoudi Bay in Santorini with kids.
This is a pretty, protected little area near Oia, but away from much of the hustle and bustle. The waters are crystalline and calm and warm, and there are tons of smooth, pretty rocks to see/play with/toss. When in Santorini with a toddler, this is a perfect place for water play. That is to say, if your kids are anything like mine, they'll love it.
5. Go to the beach.
Of course. Many Santorini beaches aren't enormously kid-friendly, though. A lot of them are rocky and hot and steep. We went to Monolithos, though, which we really enjoyed. Monolithos was our best choice for a family friendly beach in Santorini. While I've read mixed reviews on cleanliness depending on time of year, it was very clean when we were there, and had beach chairs and umbrellas and showers.
The water was shallow and warm and very clean, and the black sand was actually quite soft in this area, with a wide beach area. There were quite a few Greek kids there. In fact, we may have been the only native English speakers there that day, which we took as a good sign.
6. Watch the sunset.
You can't go to Santorini and not catch the sunset. It can be a bit tricky seeing the sunset when traveling with kids. Fortunately, it's beautiful and easy to see from wherever you are. It's nice that you don't necessarily need to battle the crowds at Oia. Our family watched the Santorini sunset from our restaurant at the edge of the cliff in Thira and it was magical.
7. Walk the 600+ steps to Thira.
If you've already taken the cable car one direction, it's actually surprisingly fun walking the other way. We walked up, but you could more easily go down, as well. It's nice to be able to pause and observe the (gorgeous) surroundings, and kids somehow tend to think stairs are way more fun than adults do. Just avoid taking the donkeys, who tend to be grossly mistreated.
8. Go for a hike, or a stroll.
Santorini offers lots of opportunities for beautiful views, or just wandering through tiny and charming towns. Kids will love hopping from cobblestone to cobblestone. Spending time outside in nature is one of our favorite things to do when traveling with kids. 
9. Explore the ruins of ancient Thira.
It's always fun to wander around and play imaginary games of ancient people. And being in Greece with kids on family holiday allows for plenty of time to do this!
10. Learn about volcanoes.
Everything about Santorini lends itself to teaching a bit about volcanic activity. Traveling with a toddler who was 23 months at the time was definitely young for that. But our traveling preschooler, who was not quite 4 at the time, was fascinated by how it all worked and truly remembered tidbits years later.
11. Eat a relaxed meal (yes, really) in Santorini with kids.
Our kids were big fans of Greek food, and I think most children would be. When dining in Greece with kids, they loved the fresh and crunchy cucumbers and tomatoes, as well as the cheese and pastries. Plus lots of FULL fat Greek yogurt. Lots to like and it felt fresh and peaceful and there was little cajoling to eat. Always a victory when traveling with kids.
Santorini is definitely worth a visit on your Greek family adventure – and the kids will make it a unique and special experience. We've found locals tend to be friendlier to us when we have kids in tow, and we get to know parts of a city and culture that we wouldn't otherwise. Santorini is no different and we highly recommend traveling to Santorini with your kids!
IF YOU LIKED THIS POST ABOUT SANTORINI WITH KIDS, YOU MIGHT LIKE THESE POSTS TOO:
DON'T NEED TIPS TO VISIT SANTORINI WITH KIDS QUITE YET? PIN THIS POST FOR LATER!