This post may contain affiliate links, which means I may earn a small commission if you click my link but does not change your price. See my affiliate policy here.
Are you planning a trip to Boston with kids? Boston is a wonderful city for family travel; there are so many options for things to do in Boston with kids. Here are 17 amazing Boston activities for a perfect family-friendly vacation!
One of my favorite things about Boston is the mix between big city and small town. While it has many of the perks of a large and bustling metropolis (like interesting sites, great museums, and excellent food), it's very accessible. The historic center is extremely walkable, and even sites that are further out aren't difficult to access. It's a wonderful mix!
Having lived in a couple of cities on the East Coast of the United States, we used to visit Boston fairly regularly. We now have extended family living there, so we loved flying over recently for a family reunion. While 2 days in Boston or 3 days in Boston are common timeframes, you could easily find enough interesting activities for at least a week (not including day trips). But it's a concentrated enough town that a weekend in Boston wouldn't be a waste, either.
Having visited several times, we've done a fair bit of research on what to do in Boston with kids. Here are some of our very favorites when visiting Boston with kids!
This post on things to do in Boston with kids contains affiliate links, but all opinions are 100% my own. That means I earn a small commission if you purchase through my link, but doesn't increase your price. Thank you for supporting this blog!
BEST THINGS TO DO IN BOSTON WITH KIDS: 17 FAMILY ACTIVITIES
Boston Public Garden
COST: FREE
If I had to pick just one absolute must-see in Boston with kids, it would be the Public Garden. Anyone who has read Make Way for Ducklings (and if you haven't, go read it right now!!) will recognize and delight in the statues of Mrs. Mallard with Jack, Kack, and their siblings. Younger kiddos will love hopping on the ducks for a photo (our toddler had to be wrestled away so other families could get a picture!), and even older kids and grownups will love reminiscing about a childhood favorite.
Once you're done with the ducks, head over to the pond for a ride on the swan boats and to see the real ducks. Take a picnic if the weather is good, but remember feeding the ducks is strongly discouraged!
USS Constitution + Bunker Hill
COST: FREE
Not all kid-friendly attractions have to be specifically geared toward kids. While a favorite for adults, too, visiting the USS Constitution is one of our favorite things to do in Boston with kids! The museum beforehand has several hands on activities (knot tying, anyone?) and an explanation of Old Ironsides' significance.
When you're done with the museum, visitors can go aboard and explore the ship. We love going below deck and checking out all the ladders and tiny shipboard rooms. Be careful when visiting Boston with kids, however, the steps are very narrow so use caution when descending with young children. We also love listening to the presentations that take place regularly on the top deck. Note that while the ship and visitors' center are free, the USS Constitution Museum does charge admission.
Within easy walking distance of the ship is Bunker Hill, where you can climb to the top of the monument for a great view of the city. Perfect for burning off some energy! I recommend going there first, before it gets too hot and crowded.
You could also sail over to these sites for a new and super fun perspective!
Boston Public Library
COST: FREE
We really enjoy visiting libraries in cities that we visit around the world, and the main public library in Boston is one of the best we've seen. It's perfect when visiting Boston with kids because they have plenty of programming to keep both adults and children engaged. The last time we were there, we attended a concert by a wonderful folk group. It was small and interactive and the kids loved going up to see the musicians and instruments afterwards. Plus, it was free!
While you're there, don't forget to check out the excellent children's section of the library. This is a perfect stop when looking for things to do in Boston with kids in bad weather, or if you just need a break from the heat/cold/rain.
Boston Common
COST: FREE
When visiting the Public Garden, don't forget to cross the street into Boston Common, America's oldest public park. The main attraction with kids in the Common is the Frog Pond, which is a little splash pad in the summer and an ice skating rink in the winter. It's also just a lovely place to have room to run free – especially helpful when exploring a busy city. This would be a really fun way to stop into the Common and the Public Garden, plus see some historic sites!
While visiting the Common, be sure to head up the hill into Beacon Hill. There are tons of shops and restaurants, and it's just a beautiful and historic area of the city to roam when visiting Boston with kids.
Boston Children's Museum
COST: $1-18, FREE UNDER 12 MONTHS
There are some really fantastic children's museums in the country, and Boston's is definitely one of them. Many of the activities on this list of things to do in Boston with kids skew toward what is interesting and fun for the whole family. But little ones will love a stop geared just to them!
The permanent exhibits house tons of imaginary play and crafts. This makes it perfect for babies, toddlers, and elementary schoolers. Although don't be surprised when older kids and even parents join in on the fun when building and playing. Babies up to 12 months are free. If you can manage a visit on a Friday, admission from 5-9pm is only $1 for all ages! You could also look into the Go Boston card, which includes admission to many other Boston sites.
Paul Revere House
COST: ADULTS $5, CHILDREN (AGES 5-17) $1, UNDER 5 FREE (CASH ONLY)
The Freedom Trail is extensive and lengthy. While there are many fascinating parts to it, I would not recommend doing the entire trail when visiting Boston with kids, especially if this is a first visit and you're with younger kiddos. There are so many amazing things to do in Boston with kids, so I recommend limiting your time on the Freedom Trail to be able to incorporate other activities, as well (and not feel burnt out).
One of the highlights of the trail, especially for a shorter visit such as a weekend in Boston, is the Paul Revere house. It's the oldest building still standing in Boston's historic district, and is the house from which Revere left for his famous midnight ride. It's super fun to walk through the old house and get a feel for what it would've been like to live in Revere's time. The home also has excellent visual displays and explanations. Additionally, the super staff do mini presentations and can answer seemingly any question from the era. Don't forget to pick up the children's activity book to take along!
This tour would also be a good option to get an overview of the Freedom Trail if you're short on time!
Old North Church
COST: ADULTS $8, CHILDREN $4
While you're in the North End visiting Paul Revere's home, be sure to head over to Old North Church, as well. The oldest church in Boston is famous for being the location from which Robert Newman and John Pulling signaled that the British were coming. (Remember "one if by land, two if by sea"?)
While the inside of the church is beautiful (the sanctuary is open to the public), you'll get a feel for it just from the outside. If you're short on time or want to save on admission costs, take a look at the bell tower from the exterior and peek through the open doors to the chapel.
Lunch in the North End + Cannolis at Maria's
COST: DEPENDS ON HOW MANY CANNOLIS YOU BUY
It would be wrong to visit Boston with kids (or without, for that matter) and not eat in the North End. Famed for its historically Italian roots, you'll find an abundance of hearty, family-style Italian food all around. La Famiglia Giorgio is one famous stop with big portions and a welcoming atmosphere. If you're looking for something a bit smaller, high quality, and frequented by locals, we loved Artu (and they they still warmly welcomed our kids!).
There are many, many debates on the best cannolis in Boston. Mike's is arguably the most famous, although Modern gives it run for its money. Our personal favorite, however, is Maria's. The filling is fluffy and not overly sweet, and they fill them when you order (as any good cannoli shop should do). The shop itself is rather bare-bones and old school, and closes early, so be sure to head over BEFORE dinner if you're in the area later in the day.
I would also personally LOVE to try a North End food tour, where you get to sample lots of different amazing options!
Haymarket
COST: FREE TO ENTER
If you're in Boston on a Friday or Saturday, be sure to stop into Haymarket, Boston's oldest outdoor market. Markets are one of the best things to do in Boston with kids. They're visually interesting and have plenty of opportunities for snacks. 😉
Haymarket is particularly fun to wander since it still operates primarily as a produce market and outfits many of the North End restaurants. If you're planning to do any cooking during your stay (or if you just want some fruit and veggies for snacking), this is also a great place to score some smoking deals on produce purchases.
Haymarket is also conveniently right across from Maria's, so it's a perfect addition to a North End visit.
Faneuil Hall/Quincy Market
COST: FREE TO ENTER
Speaking of markets, don't miss stopping into Faneuil Hall and Quincy Market. Faneuil Hall was the site of many Revolutionary meetings and discussions and was just generally a central meeting place. The Marketplace also houses Quincy Market, which is filled with food places and shops. It's a historical stop and lunch stop all in one – perfect when visiting Boston with kids!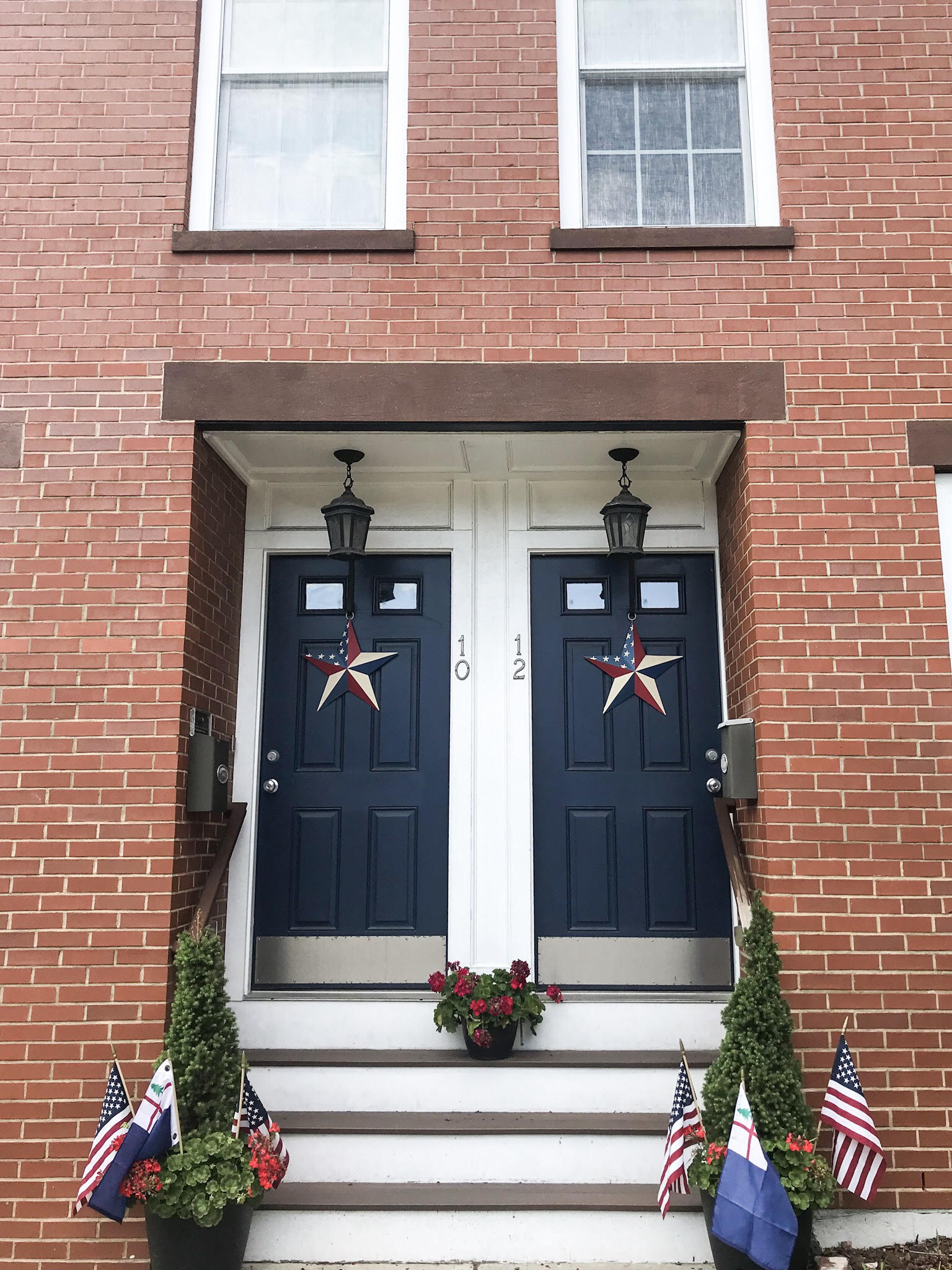 Toscanini's Ice Cream
COST: $3-10 PER PERSON
I like to think I know my way around ice cream. And Toscanini's makes some fantastic ice cream. With all the walking and historical lessons, you'll surely want to add a treat stop or two to your list of things to do in Boston with kids. And Toscanini's definitely makes the cut.
The shop makes varying gourmet flavors and also has some great standbys. It's perfect for kids and adults alike when spending a weekend in Boston.
Red Sox Game
COST: VARIES
Is there any iconic baseball stadium than Fenway Park? It's always fun to cheer for the home team, but especially so in city full of mega-fans. If you're visiting Boston with kids during baseball season, be sure to look into getting tickets to a game, or even taking a tour of the stadium.
Old State House
COST: ADULTS $12, UNDER 18 FREE
Another really worthwhile stop on the Freedom Trail is the Old State House. It's served many purposes from housing the Massachusetts General Court to now serving as a historical museum. It's the oldest public building in Boston that is still standing.
The State House is also very close to the site of the Boston Massacre. Feel free to stop at both while there!
Museum of Science
COST: PERMANENT EXHIBIT ADULTS $29, CHILD (3-11) $24 (SAVE $3 WITH ADVANCE PURCHASE, OR CONSIDER A GO BOSTON CARD)
I'm a sucker for Science Museums in general, but this is a particularly fun one when visiting Boston with kids. You have a few different options when visiting – the permanent exhibits are terrific and have plenty to interest, especially for a first-time visit. If you have more time, you can consider visiting the Bodyworlds exhibit or the Planetarium (both require additional admission fees).
Even if you only visit the permanent exhibits, you'll find displays about the human body, dinosaurs, math, natural history, and more. This is really one of the best things to do in Boston with kids of all ages. And adults will love it, too!
Walk Around Cambridge
COST: FREE
When visiting a city, it's often nice to take a break from the hustle and bustle of the downtown area. If you feel the same, I'd recommend staying just outside the city. That way, you can return to a peaceful respite and have some calm before the next day's sightseeing. It also has the advantage of typically having more accessible parking. This is useful if you're interested in driving out to a day trip that's further afield!
Cambridge nails this wonderful middle ground. It's close and accessible and also far enough out that you feel like you're getting out of the city. It also has a great atmosphere in and of itself. Kids will love roaming around Harvard Yard, or just up and down the charming streets. We stayed at the AC Hotel Boston Cambridge the last time we were in Boston, and we loved how it felt like an oasis but was still super convenient (and even had a shuttle to downtown Cambridge).
(If we had more time, I think this tour of Harvard would be so fun!)
JFK Library
COST: ADULTS $14, YOUTH/TEENS (13-17) $10, CHILDREN 12 AND UNDER FREE
If your kids are a bit older or have a decent tolerance for a quiet, museum-like atmosphere, I highly recommend visiting the JFK Presidential Library. While a little further afield, it's absolutely worth the trek for the setting alone – it's beautiful! The outside area has plenty of grass for kids to run, too. Perfect if you need to trade off with another adult!
The library itself is extremely well-done with informative and balanced exhibits, and enough detail but not too much. It's truly one of our favorite things to do in Boston with kids (or without).
There you have it – 17 of the very best things to do in Boston with kids. Whether you have 2 days in Boston, 3 days in Boston, or a quick weekend in Boston, I hope these gives you some ideas of what to do in Boston with kids! And if you have some extra time, I highly recommend exploring some more of New England with kids. Here's a fantastic New England road trip itinerary!
More Posts: US Cities with Kids
IF YOU LIKED THIS POST ABOUT WHAT TO DO IN BOSTON WITH KIDS, YOU MIGHT LIKE THESE POSTS, TOO:
NOT READY TO VISIT BOSTON WITH KIDS QUITE YET? PIN THIS POST FOR LATER!