This post may contain affiliate links, which means I may earn a small commission if you click my link but does not change your price. See my affiliate policy here.
It's crazy to me that it's the last full week of September. Which means it's almost Halloween season! I strictly celebrate apples in September, then move to pumpkins in Halloween in October, and I'm delighted for it. Plus, this means we can start planning our unique Halloween costumes for families!
We've done family Halloween costumes since our oldest was just barely a year old (we didn't do them his first Halloween, when he wasn't quite 2 weeks old ;)). It's been such a fun tradition and we've had some of the best family Halloween costumes!
Matching Family Halloween Costumes Ideas
Last year, when our kids were 9, 7 almost 5, and 2, I wasn't sure we'd pull off a family theme for Halloween costumes. My older two had a few differing ideas on what they might want to do, and I definitely didn't want to force anyone to participate in a theme. But in the end, they all decided they wanted to join in on the Harry Potter theme a few of us were doing. I was thrilled to get one more year of family costumes out of them!
This year, I figured there was no way they'd all agree on something, so I didn't even bring it up themed costumes. But then, my 3 older kids all decided on their own they wanted to sibling Halloween costumes, so it was easy for the rest of us to jump in. I can't wait to show you those costumes once we have everything put together!
Our Family Halloween Costumes Over A Decade
If you're looking for some inspiration for your own themed family Halloween costumes, I'm sharing the past decade of our costumes. We've had very basic years and more elaborate ones, but they've all been super fun and reflected something our family has been loving at the time. Enjoy, and I hope they give you some ideas for your own Halloween costumes for a family!

This post on our unique family Halloween costumes ideas contains affiliate links, but all opinions are 100% my own. That means I earn a small commission if you purchase through my link, but doesn't change your price.
Our Unique Halloween Costumes for Families
2010: Chili Pepper Baby Halloween Costume
We stuck our oldest in a chili pepper costume for our church Halloween party. Cute and snuggly for our baby who was just over 10 days old and a perfect family of 3 Halloween costume idea.
2011: Farm Themed Family Halloween Costumes
Our oldest was just about a year old, so we dressed him as a darling little cow and we were farmers. One of the cutest family of 3 Halloween costumes!
2012: The Cat in the Hat Family Halloween Costume
Our older daughter was just over a month old this year, and our oldest loved books. The Cat in the Hat seemed perfect. We had Thing 1, Thing 2, the Cat, and the mother. That was the year I used a lot of felt and feather boas. It turned out great and it was our favorite of our family of 4 Halloween costume ideas with a baby!
2013: Space Themed Family Costumes
We had a little space lover this year so we wanted to find some great space-themed family of 4 Halloween costumes with toddlers! Our 3 year old went as an astronaut, and I made his costume out of some thrifted white clothing, a white plastic utensil holder, and an upside down white bucket. Our little 1 year old was the moon, Dan was mission control, and I was a black hole. (This ended up being perfect, since I was playing in a concert where I had to wear all black and had to go there straight from our church Halloween party.)
2014: Aviation Family Costumes
I was very pregnant with our 3rd baby this year and was due less than a month after Halloween. I wanted to find some great Halloween costumes for families of 4! So I went as a very pregnant flight attendant, Dan was air traffic control, and we had two little aviators. This was probably the most involved year in terms of crafting a costume. Those airplanes were so fun but took forever, and were tough to walk around in! I used a lot of dowels and felt and hot glue.
2015: Newsies Family Halloween Costumes
Doing this family of 5 Halloween costume idea was one of my favorite years of all. We'd introduced the movie Newsies a few months before, and the kids were all very into it. Of course we had to all dress up as Newsies for Halloween! The baby Newsies costume and really the whole family Newsies costumes just made my life. So cute! I sewed the Newsies bags, bought colorful bandanas and some Newsies hats, and sourced the rest from our regular clothing.
2016: Miss Nelson is Missing Children's Book Halloween Costumes
This year, we had to figure out some more family of 5 Halloween costumes. We've always loved the children's book Miss Nelson is Missing and its sequels, but we were on a particular Miss Nelson kick in the months leading up to Halloween 2016. It felt natural to dress up as Miss Nelson, Miss Swamp, Detective McSmogg, Principal Blandsworth, and a naughty student. I purchased the bowler hat and pipe, and we had most everything else.
2017: Charlie and the Chocolate Factory Halloween Costumes
Earlier that year, we'd read Charlie and the Chocolate Factory aloud and watched the movie. It was so fun experiencing it all together. So we did Willy Wonka, Violet Beauregarde, an Oompa Loompa, Mike Teavee, and a Wonka chocolate bar with the most darling little baby golden ticket. It was such a great themed family costume for Halloween.
For this costume, I bought the kids Willy Wonka costume and hat as well as the Oompa Loompa hair. I used kid suspenders and baseball pants we had for the rest of the Oompa Loompa costume. I sewed the chocolate bar and golden ticket, and we either owned or thrifted the rest.
2018: European History Halloween Costumes
Our family spent 10 weeks during the summer of 2018 traveling all around western Europe, so it seemed only natural to choose some characters from European history for our family Halloween costumes ideas. We had King Arthur, Queen Victoria, a Viking, a gladiator and his lion, and Joan of Arc.
Since we were traveling soon before and soon after, I purchased most of these costumes, including the lion, the baby gladiator costume (cutest thing ever), the Viking, King Arthur, Queen Victoria. I made a simple shield and cross out of aluminum foil and construction paper for myself. It can be tricky figuring out a cohesive family of 6 Halloween costume but I loved how this turned out!
2019: Harry Potter Costume Ideas For Families
I waited so long for our family to get to this stage – and finally, we got to one of my very favorite family Halloween costume themes for a family of 6! That year, my older two (and my 3rd a bit, too) were SUPER into Harry Potter. It felt like we couldn't let go of our season of family Halloween costumes without all doing Harry Potter together once!
I was super pregnant with our 5th baby and wanted to incorporate that. I considered being Angelina Johnson (with my belly as the quaffle) for a pregnant Halloween costume idea, but decided instead to be Professor Trelawney with my belly as her crystal orb. We also had Harry (decked out in Quidditch gear), Professor McGonagall, Fluffy, Norbert, and Hagrid.
2020: Greek Gods Family Halloween Costumes
I absolutely loved how this matching family Halloween costume turned out even though it was one of our simpler ones. Any costume seems to have more impact when it's a whole bunch of people along a theme – one advantage of family costumes for 7 people! While they were simple to put together, they were really fun to see all together and I loved the way they looked. Here are all the details for our Greek mythology family costumes.
2021: Pirates Family Halloween Costumes
We decided to go classic Halloween this year and did a pirate theme. This was a really fun and cohesive one, and the best part was our pirate ship trunk – complete with a plank – for our church trunk or treat!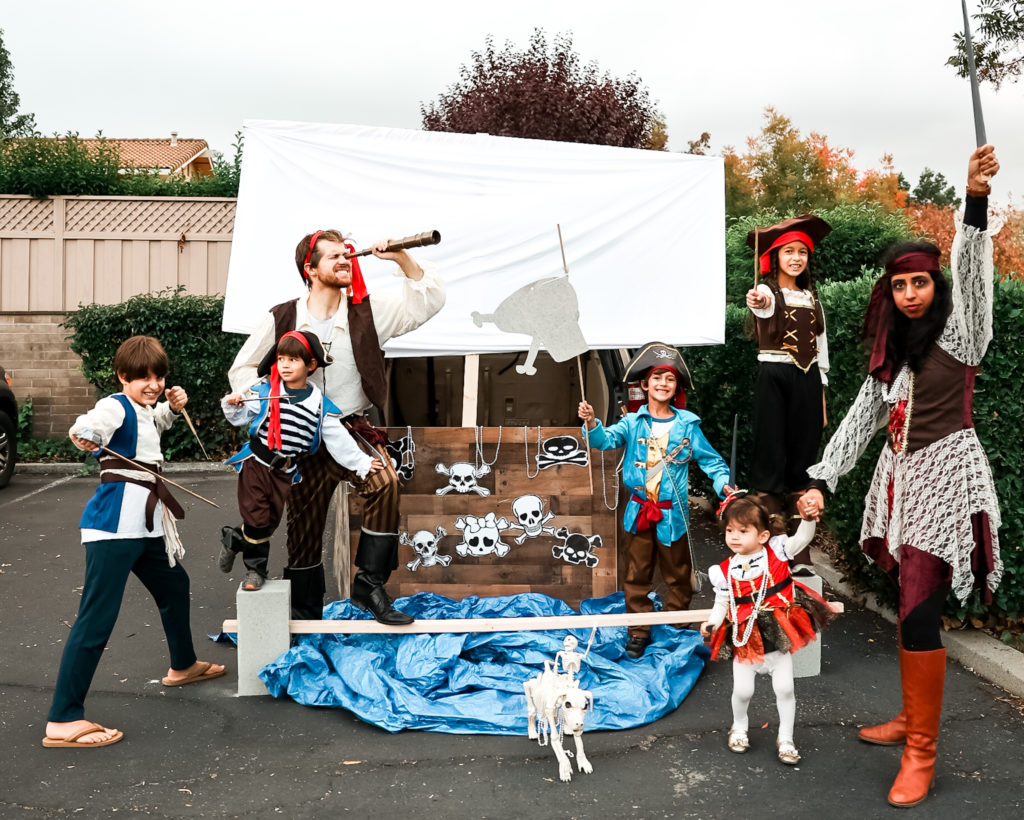 2022: Princess Bride Halloween Costumes for Families
Our older daughter has been itching to do a Princess Bride theme for over a year, and finally managed to get all her brothers on board. The biggest issue here (and the reason we didn't do it last year) is that pretty much everyone wanted to be Inigo Montoya – ha!
We decided K (our daughter) got first dibs since she's the one who's been pulling for this theme. (She was insistent on NOT being Buttercup because she's a pretty lame princess who just sits around waiting to be rescued instead of doing anything. She's boring, according to our daughter. LOL.) The other boys were Humperdinck, Westley, and Count Rugen (the 6-fingered man). Then little M was an R.O.U.S. (she definitely has a better personality for that than Buttercup, haha) and baby S was a shrieking eel. (We considered Buttercup for her, but again, Buttercup is kinda boring and shrieking eel somehow feels so funny and apropos for a newborn.) Then Dan and I were Miracle Max and Valerie – so fun!
IF YOU LIKED THIS POST ABOUT MATCHING FAMILY COSTUMES FOR HALLOWEEN, YOU MIGHT LIKE THESE POSTS TOO:
DON'T NEED HALLOWEEN COSTUMES FOR FAMILIES QUITE YET? PIN THIS POST FOR LATER!