This post may contain affiliate links, which means I may earn a small commission if you click my link but does not change your price. See my affiliate policy here.
With 7 of us traveling, we try to pack light with a family. That means that our luggage for families also needs to be lightweight! We definitely don't want to waste a bunch of weight on the luggage itself.
We also need stuff that's super durable since it generally is carrying a heavy load and being dragged around the world. That means we need stuff that is going to resist holes, won't quickly develop broken wheels, and that has sturdy zippers.
Here's some of our favorite luggage for travel with kids!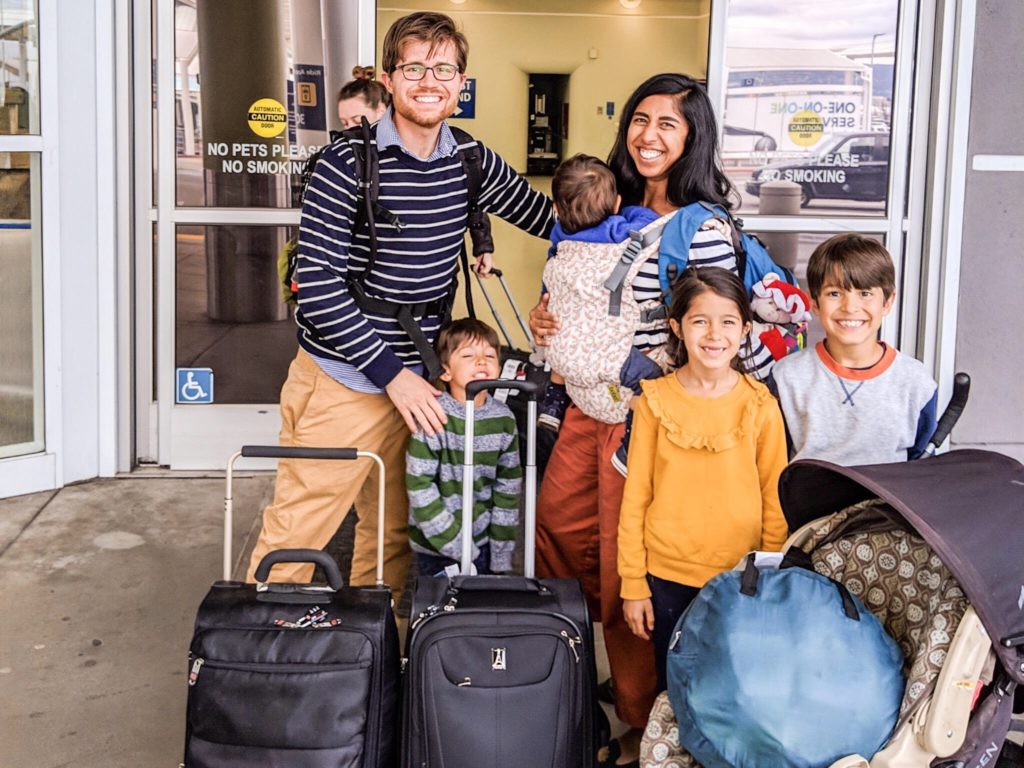 We purchased this suitcase about 4 years ago and have used it dozens of times since. At just over 11.5 lbs, it's super lightweight for a hardside suitcase. Plus, the price is super reasonable. While other suitcases like this one and this one weigh a touch less (they're lighter by about 3 lbs), they're also well over double the price (and in the case of the latter, nearly 6 times the price).
The cost to value ratio is spot on, and you can't beat the brand for quality and durability. It's very roomy; we've packed for our entire family in it before. It wheels easily on 4 wheels and is just all around really solid luggage for families.
When we are really tight on weight, we typically change this super lightweight softside family suitcase. It fits SO much, both in terms of space and weight. And though it has soft sides, we've found it to really hold up to a lot of travel. The zippers are sturdy and the edges have not yet worn through after several years of heavy use.
I appreciate that this family suitcase is also expandable, so we can easily get another few inches, or even compress more easily after putting everything in. Plus, I like that it has multiple color options. This is probably our most used piece of luggage for families for longer overseas trips.
Purchase from Amazon, Travelpro, 25″ at JCPenny
Softside Carry On Luggage For Families: Delsey, Travelpro
We have two carry ons we really love – the Delsey and the Travelpro. We use both of these ALL the time for flying, road trips, and sometimes even in the RV. They're both practically practically indestructible and are the perfect terrific size. Both are roomy with decent organization, and roll easily, as well.
While this family luggage may not be allowed as a carry on for some European airlines with smaller luggage restrictions, it works fine for most US carriers and for trans-Atlantic and trans-Pacific flights.
Purchase Delsey from Amazon, Delsey
Purchase Travelpro from Amazon, Travelpro
There are a few spots we've traveled where a standard US-sized carry on suitcase is too big to be allowed. A few European airlines, in particular, only allow extra-small suitcases for carry on luggage. We have both this suitcase (19″) and this suitcase (true 21″ without any extra) for that purpose. Neither is the very best, most incredible suitcase ever, but both are functional for the purpose.
We don't typically pack along hardside carry on luggage – we find it's easier to get in multiple packing cubes with a soft sided suitcase. We prefer that flexibility, so almost always use the soft sided ones. But very occasionally, we need a bit of extra protection, in which case we really like this hard sided carry on suitcase.
I don't have super strong opinions about packing cubes beyond the fact that they are the BEST way to keep packing organized with kiddos. Especially with a lot of us, they are an absolute MUST for separating everyone's clothing and any extras. They seriously help me keep my sanity with all the stuff while traveling!
Some packing cubes have terrible zippers or aren't sturdy, but there are several good ones. I personally like these this set of expandable packing cubes best because the zipper is sturdy and because they're expandable, they work well for babies to adults, and also for short and long trips. I also like these packing cubes because the zipper is fantastic and the mesh hasn't torn at all after quite a while of regular use.
Dan freaking LOVES this backpack. It really is such an incredible family travel backpack with so much room and a zillion pockets. We love that each side opens up for easy access, and there are several outside pockets, as well. There's a laptop sleeve and a waist strap and it's waterproof (it comes with a waterproof cover but we've found it's also pretty darn waterproof even without it), and it's really comfortable. It holds a TON but doesn't feel enormous, and we've never had trouble bringing it on as a carryon.
The zippers are crazy strong, so we never worry about this family backpack falling apart while we're out and about. We use it for hikes (it's one of our favorite kids hiking gear items!), for air travel, always take it in the RV…it's basically our go to family backpack for all uses and is such a versatile piece of family luggage.
Plus, the company is a B-corp and uses its power and money to support important causes around the world. It's an incredible product and company!
Available on Amazon, REI, Backcountry
I personally prefer a smaller backpack that doubles as a diaper bag and contains some of my things. I've really liked one similar to this.
Our kids love using this backpack for travel starting around age 7. It's roomy, has plenty of zippers and pockets, and is their favorite for any sort of outdoor adventure. It's easy to wipe clean and is super durable. We love it. Our kiddos use the smaller size of that same pack starting around age 5. Starting around age 3, our kiddo use a small toddler backpack similar to this.
We also occasionally pack along a couple of these folding backpacks for travel. They're terrific for packing up small but providing extra space if needed. They're also perfect for containing extra snacks or food leftovers along the way. They easily clip onto the outside of another bag with a carabiner, as well.
Why We Don't Use Ride On Kid Suitcases
Over the years, I've seen half a dozen different ride on kid suitcases (like this and this, for instance). And there's even lots of luggage geared to kids that's not specifically ride on.
And here's the thing. They might be a little fun and convenient. They may help little kids feel more responsibility and excitement. But to me, they're just not that functional. The ride on ones, for instance, have much less room in them than a standard carry on. They're only really useful for the airport and perhaps for the plane, but definitely not thereafter. Especially if we're moving from place to place, it's just a pain to have another bulky item to transport.
For me, if something isn't serving multiple uses throughout the trip, it's not the best use of space. If we really need a leg rest, I'd rather take a lightweight inflatable one than drag a whole ride on suitcase. (Which, if my kid gets tired, I'm going to be carrying.) Plus, they're really only useful for a very limited age range. My 8 year old is certainly not going to be riding on one, or even my 6 year old. It has a very short shelf life, and the cost just doesn't justify that small amount of use for me.
That's very much based on travel style and personality. We like to pack light and have as few pieces as possible to keep track of (we have too many kids to keep track of to want to be counting luggage endlessly!). Instead, I'd rather minimize and share luggage and have kids pitch in by taking turns pulling regular luggage that works for the whole family.
And that's it! That's pretty much all the luggage we use for travel in any given situation. It's the best minimal luggage for families that we've found and hope it's helpful to you, too!
MORE POSTS
IF YOU LIKED THIS POST ABOUT THE BEST FAMILY LUGGAGE, YOU MIGHT LIKE THESE POSTS TOO: